To be honest, nobody likes to be ever in a court or would desire to fall into a legal affair that drags him or her into court. On the contrary to that, we do like watching films based on courtroom drama and lawyers in particular.
Despite being one of the favored types of films in India, the genre is not much explored as there are only a few films covering this topic. The reason I believe is that to create good court trials based drama film, you need a great script, lots of groundwork, and most importantly logic, so the technicality is no way disturbed or altered throughout the film.
Every courtroom drama film has to go through a procedure and follow the real-life guidelines when it comes to law and courtroom ethics.
Yet, Bollywood has been successful in making few marvels in this genre and today I will be sharing some of the best Bollywood films based on lawyers and Courtroom life.
List of Best Courtroom Drama Films in Bollywood
Kanoon (1960)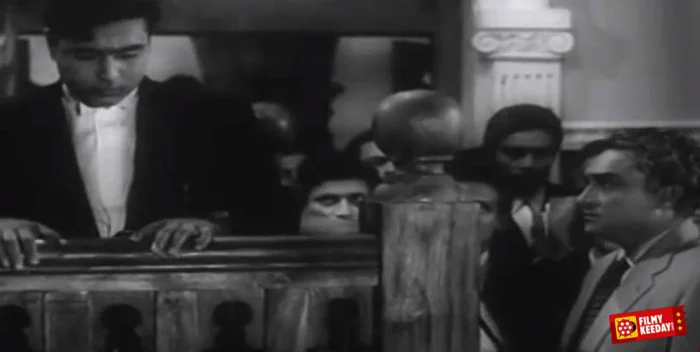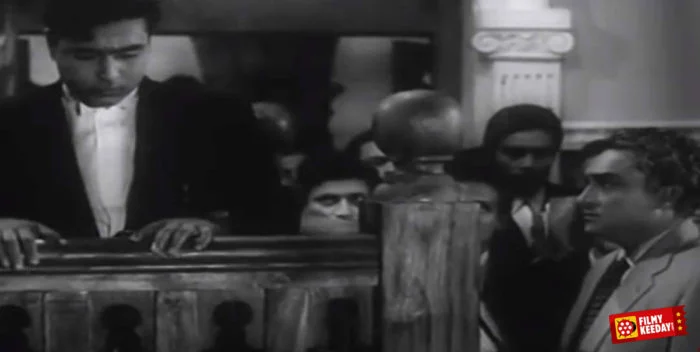 Kanoon is a 1960 Hindi court room drama film directed by B.R. Chopra. The title of the film means "The Law" in Hindi and it is well understood what the film will be about.
Basically, the film revolves around a case against capital punishment believing that witnesses can be deceived, sometimes resulting in a wrongful conviction.
The film stars Ashok Kumar as the Judge, while Rajendra Kumar plays a defense lawyer as well as the would-be son-in-law of the Judge. The film is also regarded as the second song-less film in India.
Baat Ek Raat Ki (1962)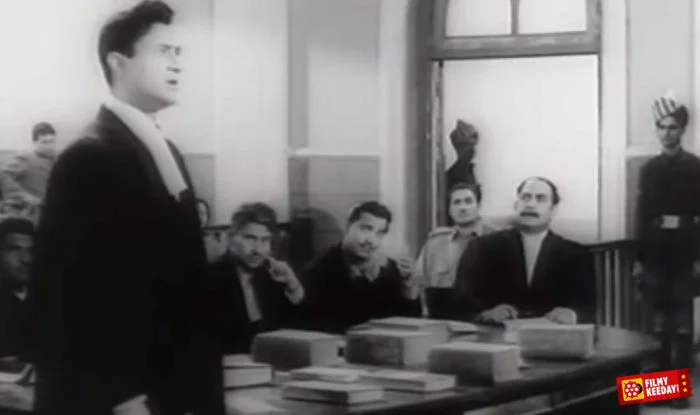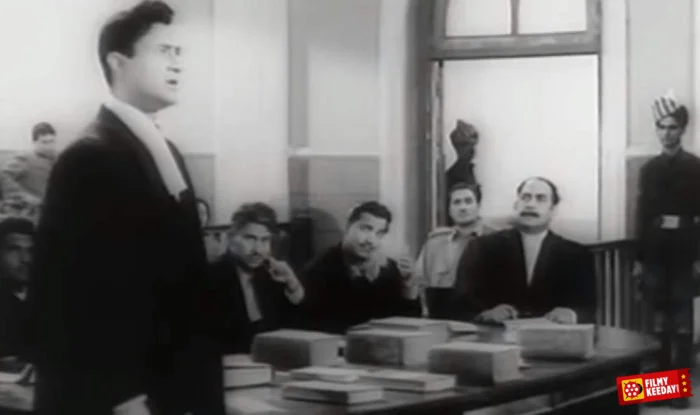 Directed by Shankar Mukherjee, Baat Ek Raat Ki is a 1962 film starring Dev Anand and Waheeda Rehman in lead roles.
The film opens with Neela, portrayed by Waheeda Rehman, who is in custody accused of committing a murder.
Assuming that she did commit the murder, she even confessed to it. However, renowned lawyer Rajeshwar, played by Dev Anand, decides to defend her as he believes that there's much more to the case that it seems. Whether he is successful at defending her or not forms the rest of the story.
Waqt (1965)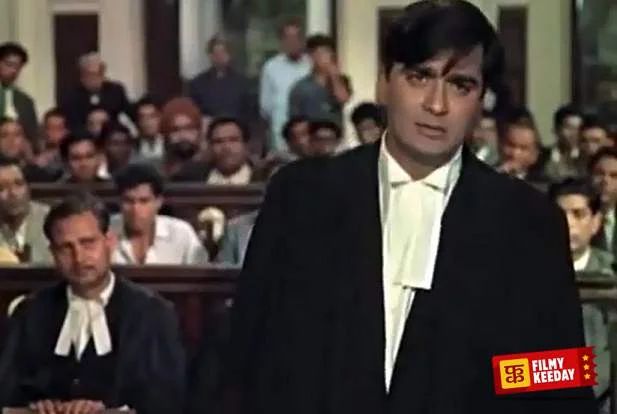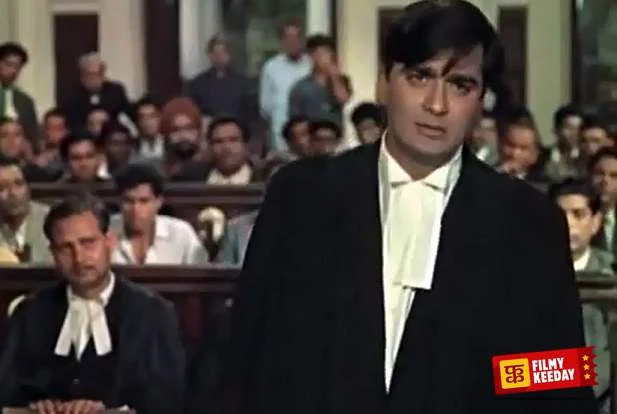 Waqt is not entirely a courtroom drama film; however, it does make it to our list because of the final sequences of the film which is dominated by a courtroom trial.
Directed by Yash Chopra, Waqt is a 1965 disaster film with a huge multi-star cast including Raaj Kumar, Sunil Dutt, Shashi Kapoor, Sadhana, Balraj Sahni, Madan Puri, Sharmila Tagore, Achala Sachdev, and Rehman.
Waqt is also considered as a film that re-introduced the concept of lost and found in Bollywood that was first seen in the 1943 film Kismat.
Andha Kanoon (1983)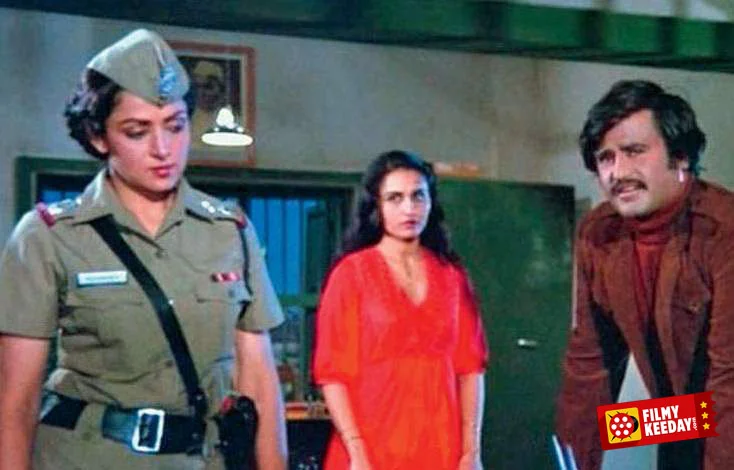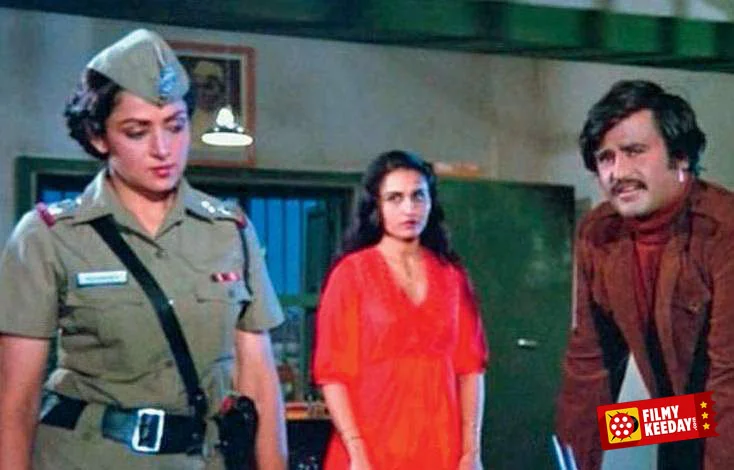 Andha Kanoon is a 1983 film that actually takes a shot at how manipulative Indian Law can be. The theme of the film can be anticipated with its title itself that means "Blind Law" in Hindi.
Directed by T. Rama Rao; the film talks about many facets of law failing to bring justice, thanks to the loopholes and weakness of law in India.
The film features an ensemble cast that includes Amitabh Bachchan, Rajnikanth, Hema Malini, Amrish Puri, Reena Roy, Prem Chopra, Pran, Danny Denzongpa, Madan Puri, and Asrani. The film also marks the debut of South Superstar Rajnikanth in Bollywood.
Meri Jung (1985)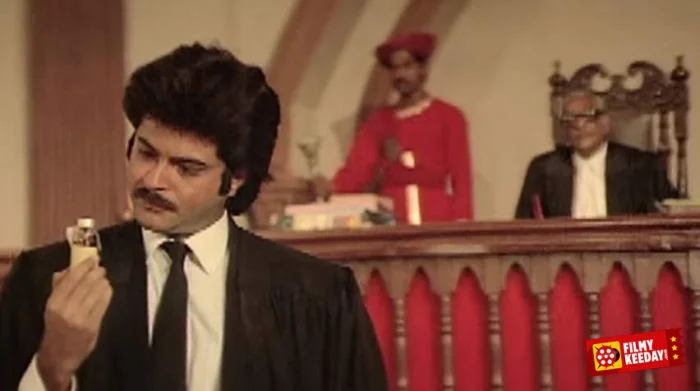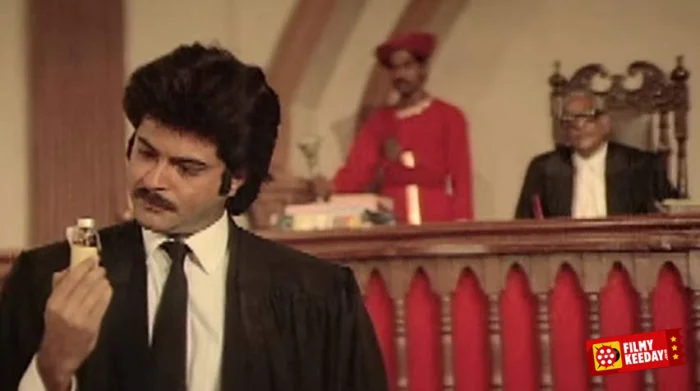 Meri Jung is one of the best court drama action drama films I have ever seen. It is also one of the best inspiring movies of all time as it talks about willpower and hard work.
Directed by Subhash Ghai, Meri Jung is 1985 film that tells the story of a lawyer Arun Kumar, portrayed by Anil Kapoor, who becomes a lawyer to avenge his father's death who became a victim of corrupt criminal lawyer G.D. Thakral, played by Amrish Puri.
The film has many courtroom sequences with certain twists and mysteries. The film also stars Meenakshi Sheshadri, Nutan, Javed Jaffrey, Parikshat Sahni, etc.
Also Read: Greatest Performances by Amrish Puri as Villain
Ek Ruka Hua Faisla (1986)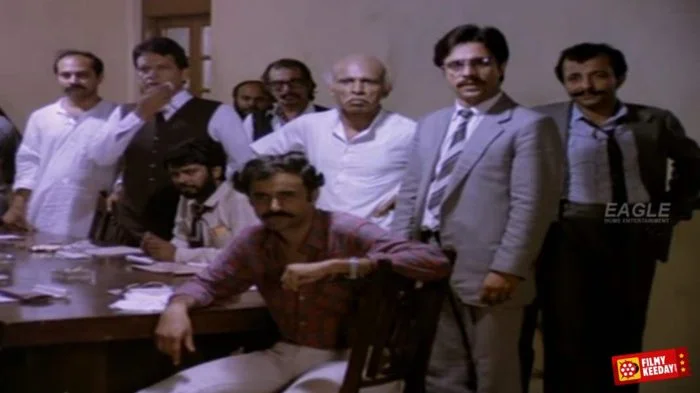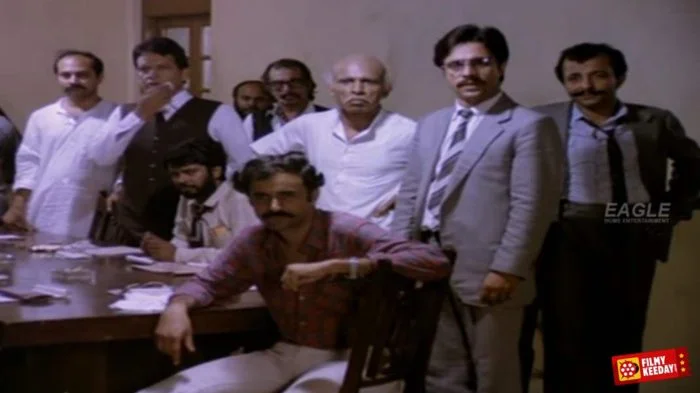 Basically, a remake of Golden Bear award-winning 1957 film 12 Angry Men, Ek Ruka Hua Faisla is a 1986 Hindi film directed by Basu Chatterjee.
The film is entirely based on a courtroom trial where the accused is a teenager who is arrested for stabbing his own father to death. Now, the jury of 12 men has to decide whether their verdict is guilty or not guilty.
The film actually takes us to the behind the door courtroom drama where the jurors argue for various different reasons. Some were legitimate, while others simply because they want to get it done with.
Damini (1993)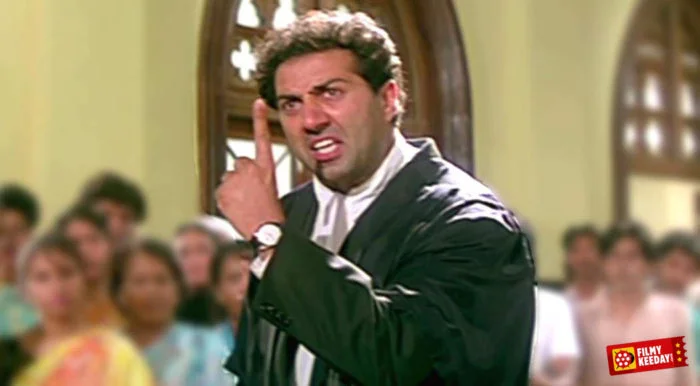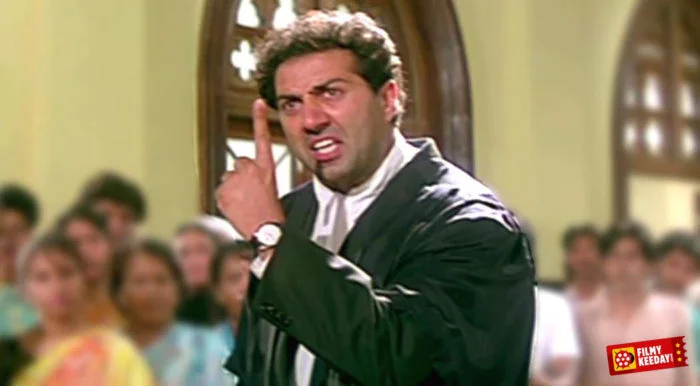 If you liked the dialogue "Dhai Kilo Ka Hath" by Sunny Deol, then you must have most probably watched the 1983 crime thriller Damini.
Directed by Rajkumar Santoshi, the film revolves around Damini, who is the prime witness of a rape committed by her own brother-in-law and his friends. The film is about Damini's struggle to get justice for the raped victim, while all her family goes against her including her husband and parents.
Despite the film being about Damini, as the title suggests, the real drama starts when Sunny Deol, who plays a failed advocate at the hands of corrupt lawmakers, enters the scene.
His punchy dialogues and persona in the film steal the show completely earning him the Best Supporting Actor award at the 1993 Filmfare Awards as well as National Film Award in the same year.
Kyo Kii… Main Jhuth Nahin Bolta (2001)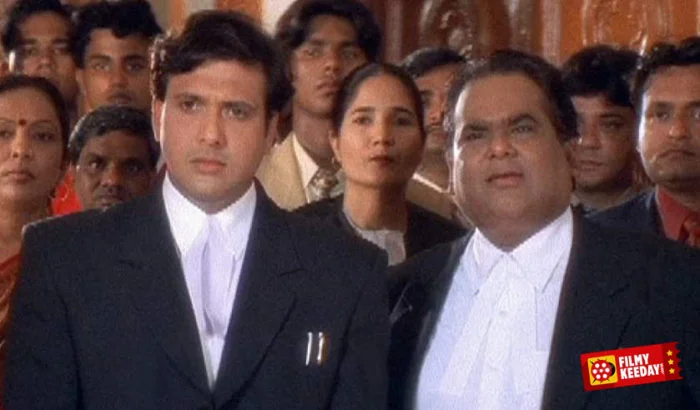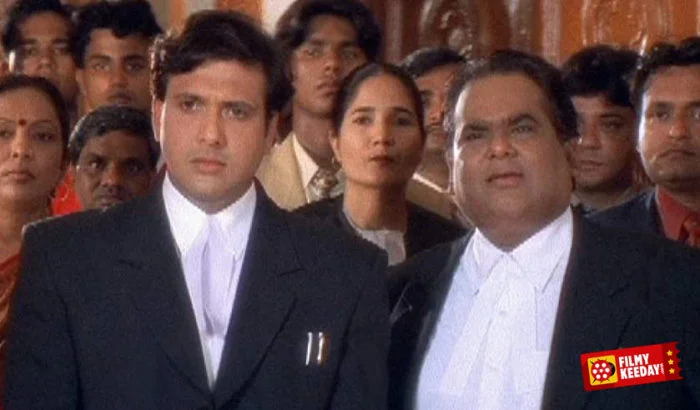 Well, Govinda is notable for so many comedy films, however, Kyo Kii… Main Jhuth Nahin Bolta doesn't make it to his top 10 lists of successful films.
The main reason being that he has delivered so many hits in this genre that almost all of his films seem identical to one another. A remake of 1997 Hollywood film Liar Liar, Kyo Kii… Main Jhuth Nahin Bolta is not an exception either.
However, because he plays a lawyer in the film, I had to add it to the list. The film also stars Sushmita Sen, Anupam Kher, Mohnish Behl, Rambha, Ashish Vidyarthi and many others in important roles.
Aitraaz (2004)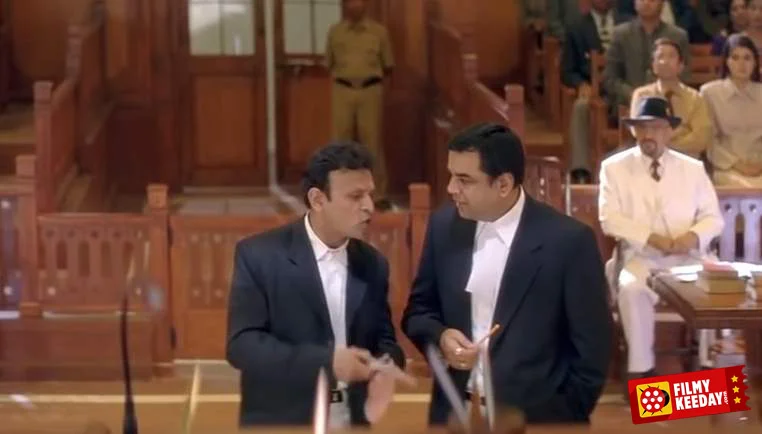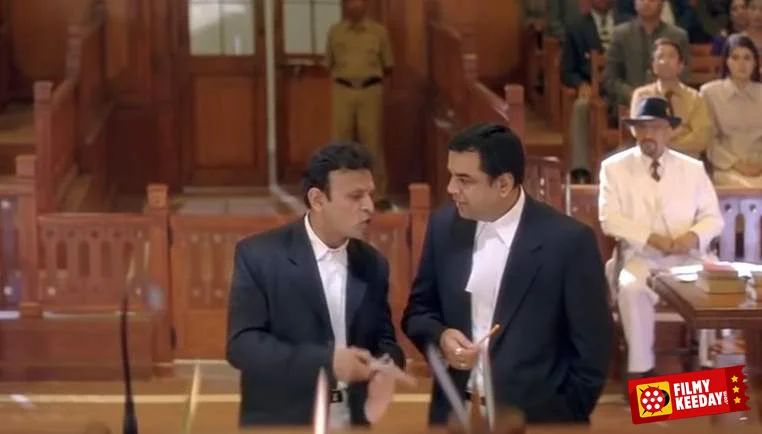 Aitraaz is a romantic thriller film that tries to show a different perspective suggesting that sometimes a man can also be a victim of sexual harassment by a woman.
Directed by Abbas-Mustan; the film stars Akshay Kumar as the victim as well as accused of sexual harassment, whereas Kareena Kapoor plays his wife and a lawyer defending him at the court trial.
The main antagonist of the film is played by Priyanka Chopra, who accuses Akshay's character of sexual harassment and has him arrested on fake charges. Whether his wife successfully defends him or she also believes the false story is what forms the rest of the film.
Shaurya (2008)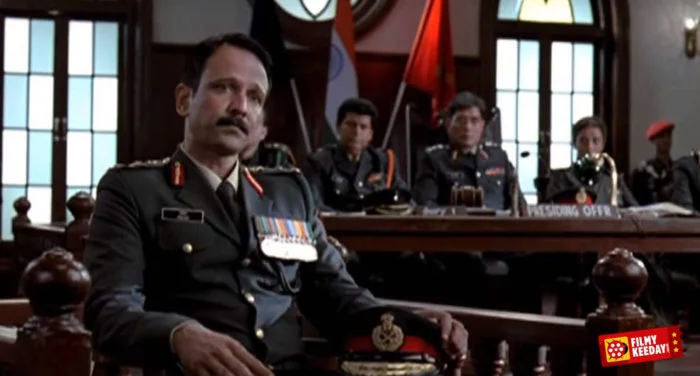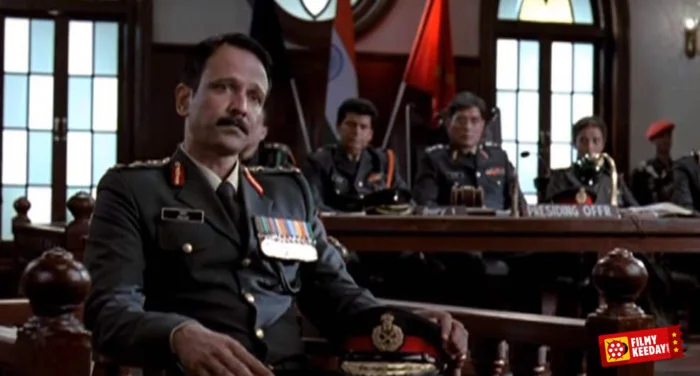 Well, all the other films on the list are about courtroom drama featuring civilians. Shaurya is slightly different as the film features the court-martial process of a Muslim soldier, Javed Khan, in the Indian army for killing his commanding officer.
Major Siddhant Chaudhary, played by Rahul Bose, is assigned the role of Javed Khan's defense lawyer during the process. Set during the Kashmir conflict in Jammu and Kashmir, India, the film primary follows the investigations that lead to the shooting.
Directed by Samar Khan, the film is based on an American film A Few Good Men.
Also Read: Movies about Indian Army and Army Life
Jail (2009)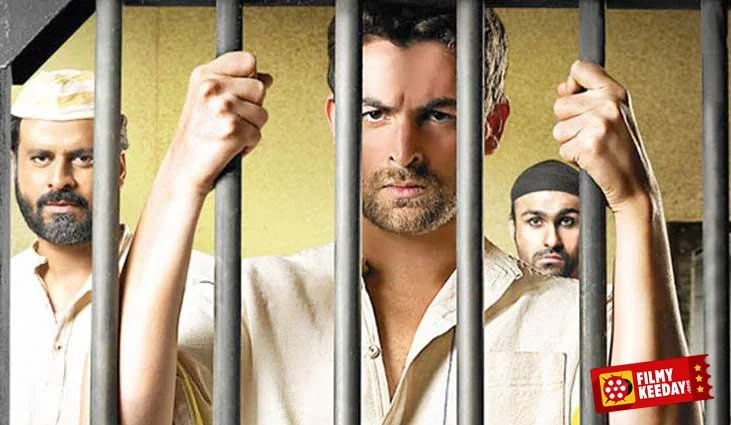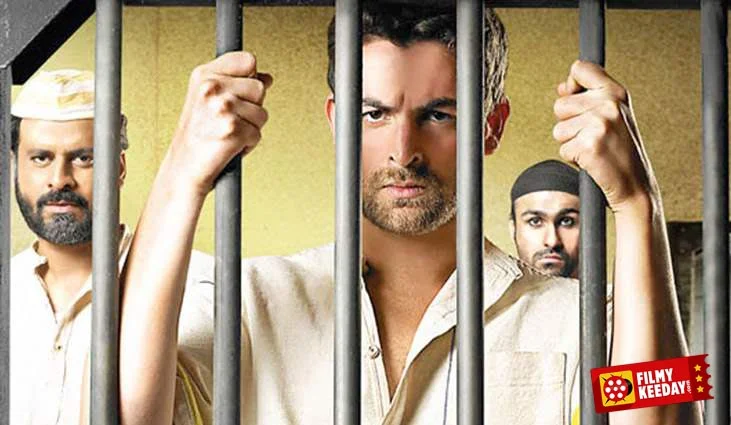 Jail is a 2009 Hindi prison drama film directed by Madhur Bhandarkar. The film stars Neil Nitin Mukesh as a prison inmate, who is arrested on false charges as he is caught with possession of drugs.
The film primarily follows the problems and atrocities faced by Neil's character while he is in jail and basically displays the life of a prisoner in an Indian jail. The film also stars Manoj Bajpayee, Mugdha Godse, and Arya Babbar in important roles.
Also Read: Movies on the life of Prisoners
No One Killed Jessica (2011)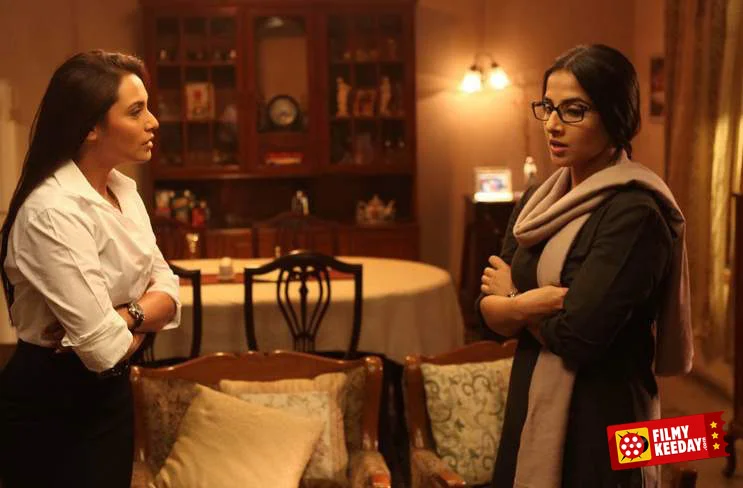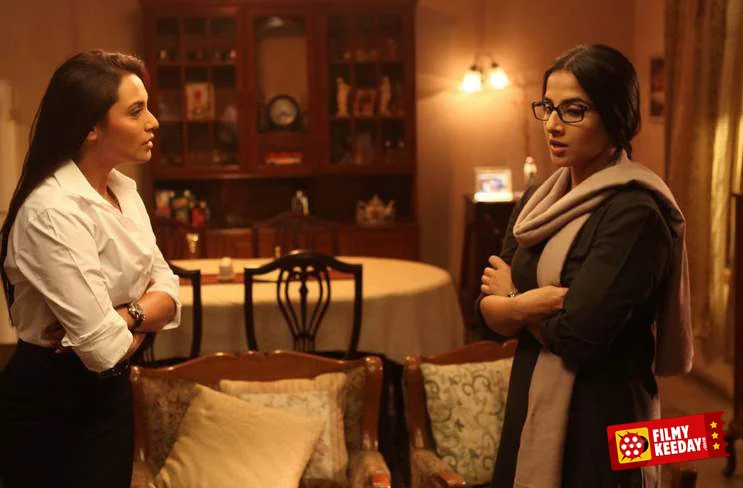 No One Killed Jessica is a 2011 biographical drama film directed by Rajkumar Gupta. The film is based on the highly controversial Jessica Lal murder case.
The film stars Rani Mukerji as Meera Gaity, a news reporter, whereas Vidya Balan played Jessica's sister Sabrina. The film follows the murder case trial and Sabrina's fight for justice with the support of Meera.
Also Read: Bollywood Movies based on Real life story and True Events
OMG – Oh My God! (2012)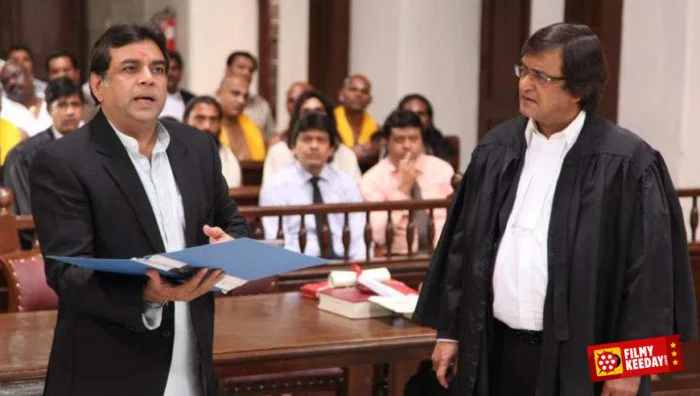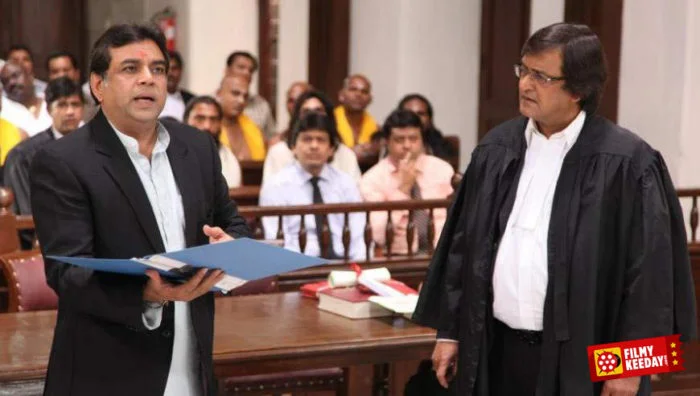 OMG – Oh My God! It is an interesting addition our list of best Bollywood films on courtroom drama. Directed by Neeraj Pandey, the film is a satirical comedy-drama film based on one of the most popular Gujarati stage play titled Kanji Virudh Kanji.
Basically, the film follows the life of Kanji Lalji Mehta, played by Paresh Rawal, whose shop is destroyed during an earthquake. When his insurance claim is rejected by the insurance company as the disaster claim doesn't cover any damage caused by natural calamities classified as "Act of God", Kanji decides to file a lawsuit against God.
It is then Krishna Vasudev Yadav, played by Akshay Kumar, enters Kanji's life when everyone has left him. With directions from Krishna and getting help from a lawyer Hanif Qureshi, played by Om Puri, Kanji takes the country by storm as multiple petitions are filed by people victim of "Act of God".
The film also stars Mithun Chakraborty, Govind Namdeo, Poonam Jhawer, Mahesh Manjrekar, and others in important roles.
Jolly LLB (2013)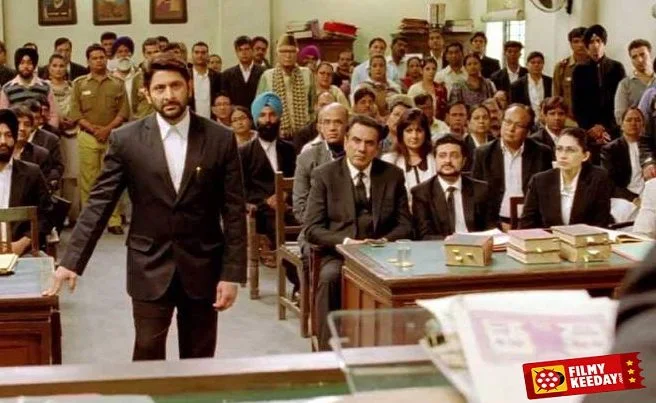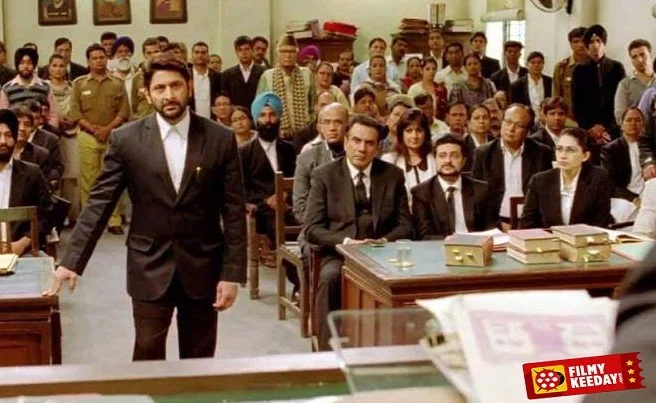 Jolly LLB is a 2013 Hindi court drama film starring Arshad Warsi and Boman Irani in the lead roles.
Directed by Subhash Kapoor, the film basically follows the life of lawyer Jagdish Tyagi aka Jolly, played by Arshad Warsi, who takes up a case to help six innocent wage earners get justice and his fight against the monopolistic behavior of rich and judicial corruption.
The film takes its reference from the 1999 hit-and-run case of Sanjeev Nanda and a short reference to the Priyadarshini Mattoo murder case.
Jazbaa (2016)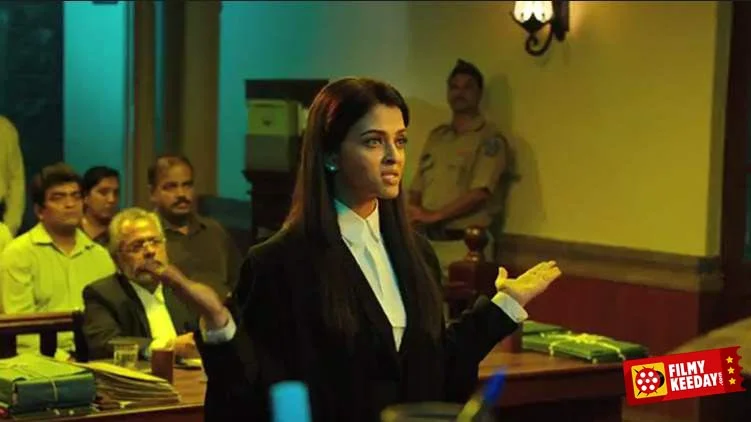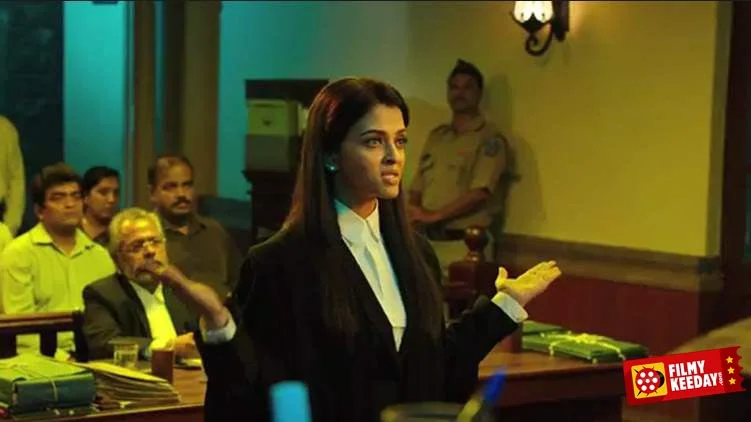 Jazbaa is a comeback film of Aishwarya Rai Bachchan after taking a long break from films. Directed by Sanjay Gupta, Jazbaa is a 2016 crime thriller film that follows the life of a lawyer, played by Aishwarya, who is forced to defend an unsavory criminal after someone takes her daughter hostage.
The film also stars Irrfan Khan, Shabana Azmi, Jackie Shroff, and Atul Kulkarni in important roles.
Rustom (2016)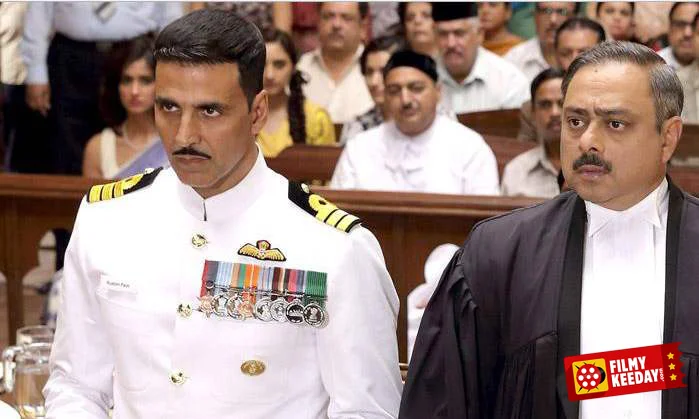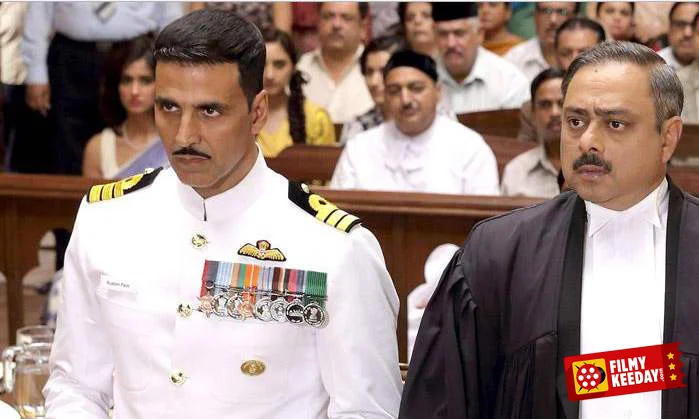 Rustom is the latest film on our list of top Bollywood films about court trials. Directed by Tinu Suresh Desai, the film is based on the real-life incident of Naval Officer K.M. Nanavati and businessmen Prem Ahuja.
The film star Akshay Kumar as Rustom, who confesses that he killed Vikram Makhija, played by Arjan Bajwa and later defends himself in front of a Jury trying to prove, he isn't guilty. Whether he is successful or not forms the rest of the film.
The film also stars Ileana D'Cruz, Pawan Malhotra, Esha Gupta, Sachin Khedekar, Parmeet Sethi, Kumud Mishra, and many others in important roles.
Pink (2016)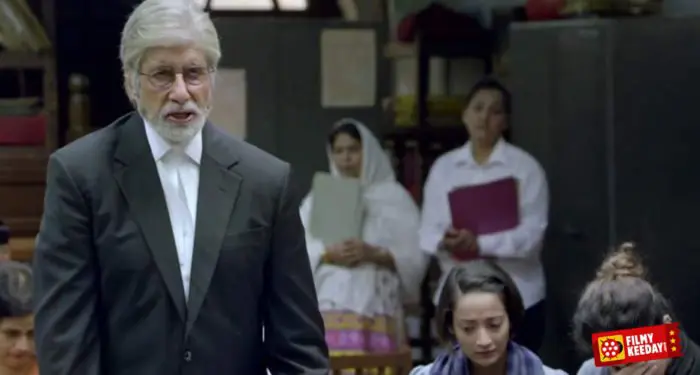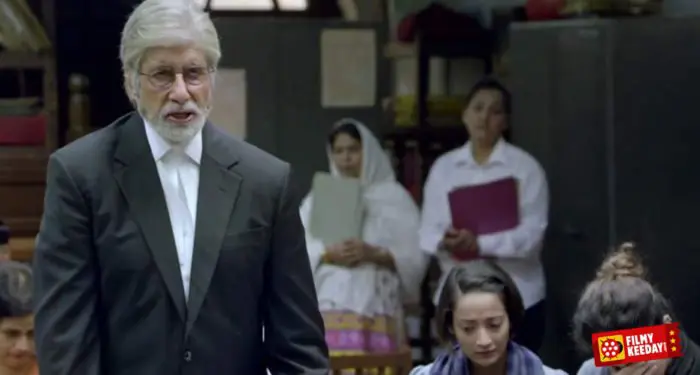 Pink is a 2016 courtroom drama film directed by Aniruddha Roy Chowdhury. The film follows the courtroom trial of Miss Arora, played by Taapsee Pannu, who is defended by a lawyer suffering from bipolar disorder experiencing frequent mood swings, portrayed by Amitabh Bachchan.
Pink is not just a film about the attempt to murder case, this film questions the thinking of our society and how we judge people and women by their looks, actions, and lifestyle. Pink is high on performances all the actors Specially Amitabh Bachchan, Tapsi Pannu, and Kirti Kulhari.
Amitabh Bachchan is a lawyer in the film for the first time in his whole career. (We think That) He gave a spellbound act as an old lawyer. This film is not focused on characters and their lives, Pink is about our society and our views on the different topic, How we create lists of good and bad things and how we judge girls according to that list.
Jolly LLB 2 (2017)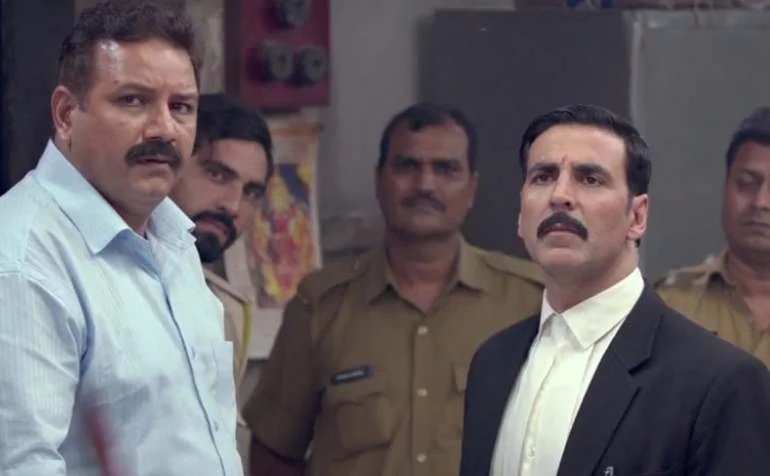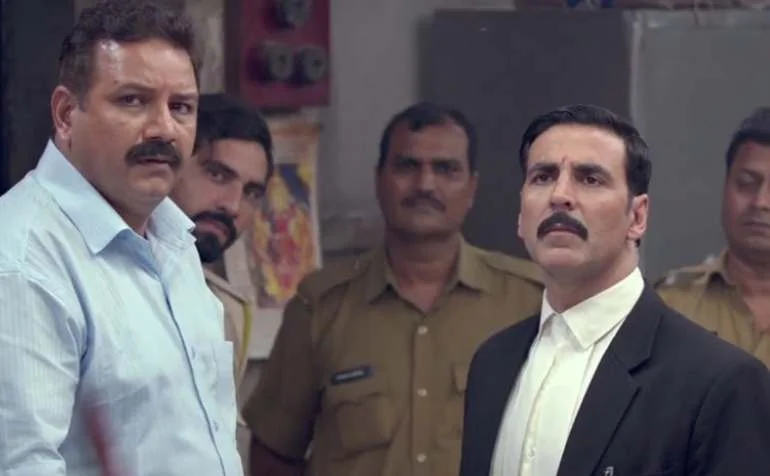 A sequel to the 2013 film Jolly LLB, Jolly LLB 2 is another courtroom drama film starring Akshay Kumar and Huma Qureshi in the lead roles. While Akshay Kumar plays a good lawyer, the film has Annu Kapoor to play the rival lawyer against Akshay Kumar.
The film will also have Saurabh Shukla. It was not a big success as other courtroom drama films but still a good watch.
Section 375 (2019)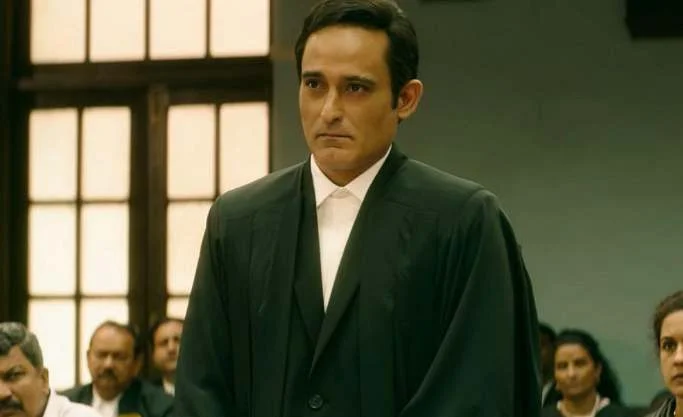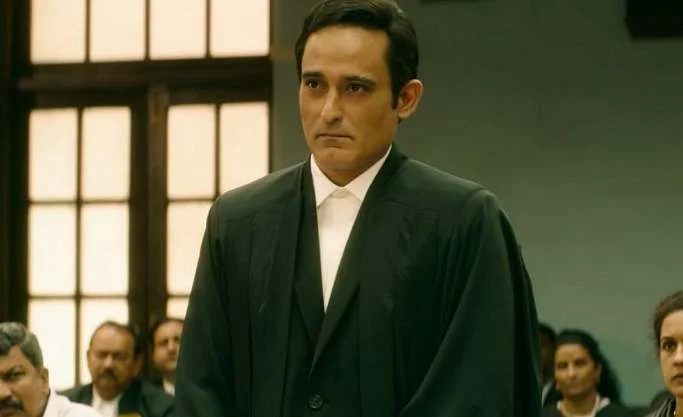 Section 375 is the latest addition to the list of best Hindi films on courtroom trials. The film is a story false rape acquisition and based on section 375 of Indian Law.
It stars Akshaye Khanna, Richa Chaddha and Rahul Bhat in the lead roles, the film is very intense and addresses a very sensitive topic of False rape claims.
Now that you have gone through all the Best Bollywood films on courtroom drama and lawyers of all time.
Share your favorite Hindi Films on Courtroom Drama.