It is February, the month of celebrating love and painting the whole world in the colors of Love and romance. People buy gifts, plan surprises and dates, but isn't that all so old and boring. Why don't you try something different this year. If you both love movies, then this can be the best Valentines for you both. Here are 15 best Romantic movies that can make your Valentine's Day the best Valentine's Day. Some candles, you and your beloved and a romantic movie bringing you both a little more closer. Relax and have a romantic time watching these must watch romantic movies this Valentines Day with your Valentine.
P.S- The list of Must Watch Romantic Movies on Valentines are in random order.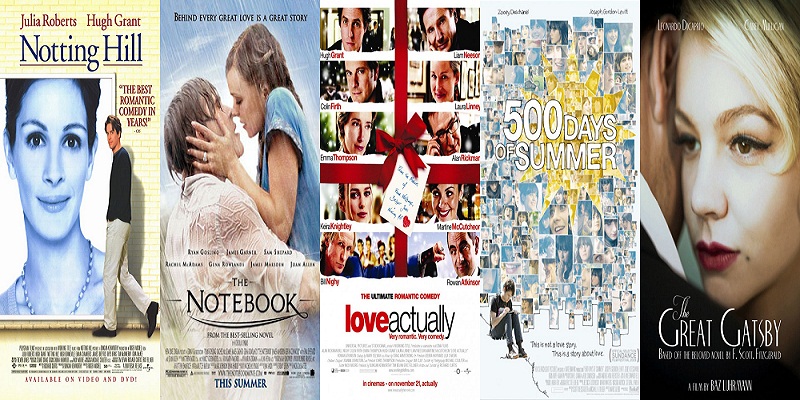 Notting Hill (1999) IMDb- 6.0
A beautiful famous film star meets a simple book shopkeeper and their life changes forever. The movie stars Hugh Grant and Julia Roberts.
The Notebook (2004) IMDb- 8.0
A rich girl falls in love with a poor boy and they get married, soon to get separated because of their social difference. But Love has no ending, Love always find ways and so does they do. The movie stars Ryan Gosling and Rachel McAdams.
Love Actually (2003) IMDb- 7.7
The movie is about 8 couples and their love stories during Christmas. The movie stars Alan Rickman, Heike Makatsch, Hugh Grant, Martine McCutcheon, Liam Neeson,Thomas Sangster, Olivia Olson, Laura Linney, Rodrigo Santoro and a few more.
500 days of Summer (2009) IMDb- 7.8
Romantic Comedy about a man who falls in love with a pretty girl. But the problem is the girls just don't believe in true love. The movie stars Joseph Gorden and Zooey Daschanel.
The Great Gatsby (2013) IMDb-7.4
A man returns back to find his love whom he has lost in the past. She is now married to a wealthy man. He tries every possible way to get his love back. The movie stars Leonardo DiCaprio, Cary Mulligan.