Gunday
Gunday is an action crime thriller movie starring Priyanka Chopra, Ranveer Singh and Arjun Kapoor. The movie also stars Irrfan Khan. The movie is set in the 70's on the theme of Coal bandits and gun carriers. The movie will be released in Bengali with Bengali songs. Gunday is the first Indian movie whose trailer was premiered at the Dubai International Film Festival.
The movie, Gunday has mostly been shot in Mumbai and Kolkata.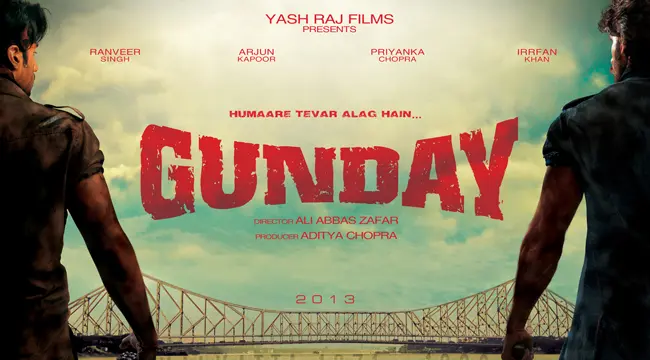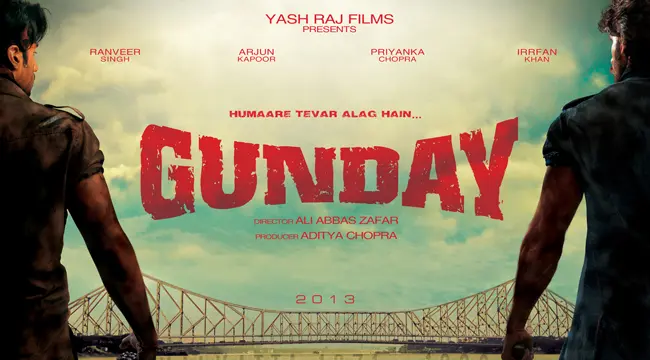 Gunday

Movie Cast and Crew 

Director: Ali Abbas Zafar
Produced By: Aditya Chopra
Music: Sohail Sen, Julius Packiam
Star Cast: Ranveer Singh as Bikram
Darshan Gurjar as young Bikram
Arjun Kapoor as Bala
Jayesh V. Kardak as young Bala
Priyanka Chopra as Nandita
Prince Hayer as Prem
Irrfan Khan as A.C.P. Satyajeet Sarkar

Release Date: 14 February 2014
About Gunday Movie
The movie is about two men, Bikram and Bala. The unsettled 70's background of Calcutta and two refugees who become Gun carriers. The life goes on and these gun carriers become Coal Bandits. The twists and turns of life make these Coal Bandits most powerful, reckless, fearless Gunday.
Gunday

Movie Hindi Tracklist 

 Jashn-E-Ishqa
Tune Maari Entriyaan
Jiya
Asalaam-E-Ishqum
Saaiyaan
Mann Kunto Maula
Gunday
Rhythm of Jashn-E-Ishqa
Mann Kunto Maula (Classical)
Tune Maari Entriyaan (Bangla Version)
Gunday

Movie Bengali

Tracklist

Jashn-E-Ishqa – Bangla Version)
Tune Maari Entriyaan – Bangla Version
Jiya – Bangla Version
Asalaam-E-Ishqum
Bolo Na
Mann Kunto Maula – Bangla Version
Gunday – Bangla Version
Rhythm of Jashn-E-Ishqa – Bangla Version
Mann Kunto Maula (Classical)
Gunday

 Dialogue Lyrics

Yeh tasveer shuru zaroor usne ki hai … lekin ismein aakhri rang main bharoonga

Pistol ki goli aur laundiya ki boli jab chalti hai … toh jaan dono mein hi khatre mein hoti hai

Yeh tevar hamare khoon mein hai … tere bhokane se kuch nahi hoga

Lakeerein bahut ajeeb hoti hai … khaal pe khich jaye toh khoon nikaal deti hai … aur zameen pe khich jaye toh sarhadein bana deti hai

Agar jigar ki jagah jigar hai aur jigar mein dum hai … toh rok le aake

Hum gunday hai … na aaj tak kisi ke haath aaye hai … aur na aayenge
Gunday

 Trailer

Keep Visiting us for updated Gunday Box Office collection Reports