2015 saw an array of different movies produced all over India. The filmmakers have explored every inch and factor while making these movies in a way that they seem very close to reality. The year also witnessed some of the most beautiful movies like Bajrangi Bhaijaan and Premam, there were some serious flicks like Baby and Nanu Avanalla Avalu.
The Indian cinema also entertained us with comedies like Uttama Villain while stunned us with movies like Bahubali and I. The year was also special because of some inspiring biographical films such as Manjhi and Naanu Avanalla…Avalu.
With so many great performances given by artists all over India in the year 2015, it was very tough to shortlist the nominations for Best Actor in a Leading Role category for FK Awards.
So, let's cut the crap and begin with the Best Actor nominations in 2015.
fk Awards: Best Actor Nominations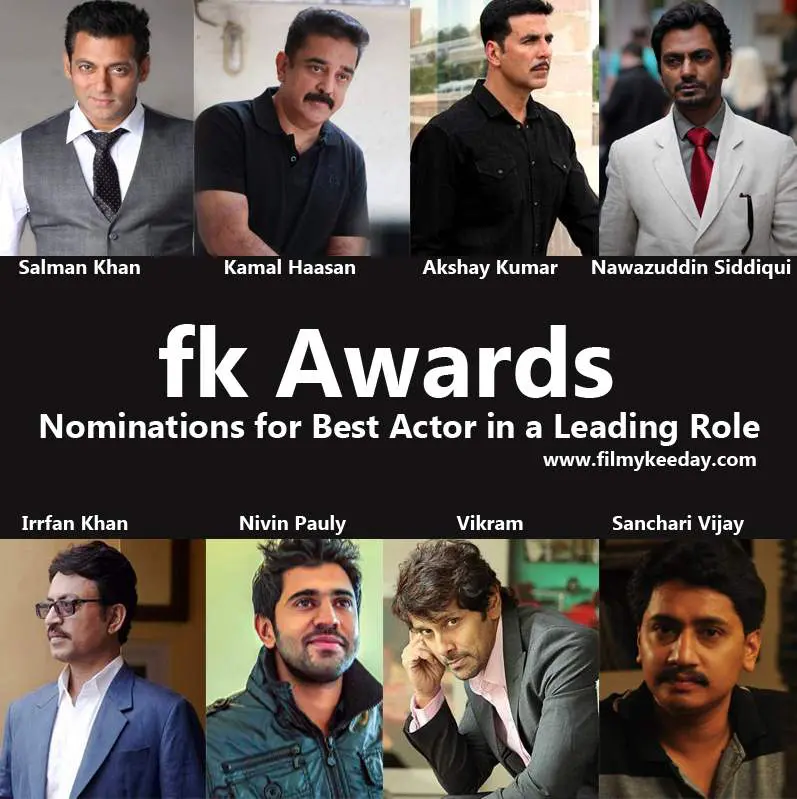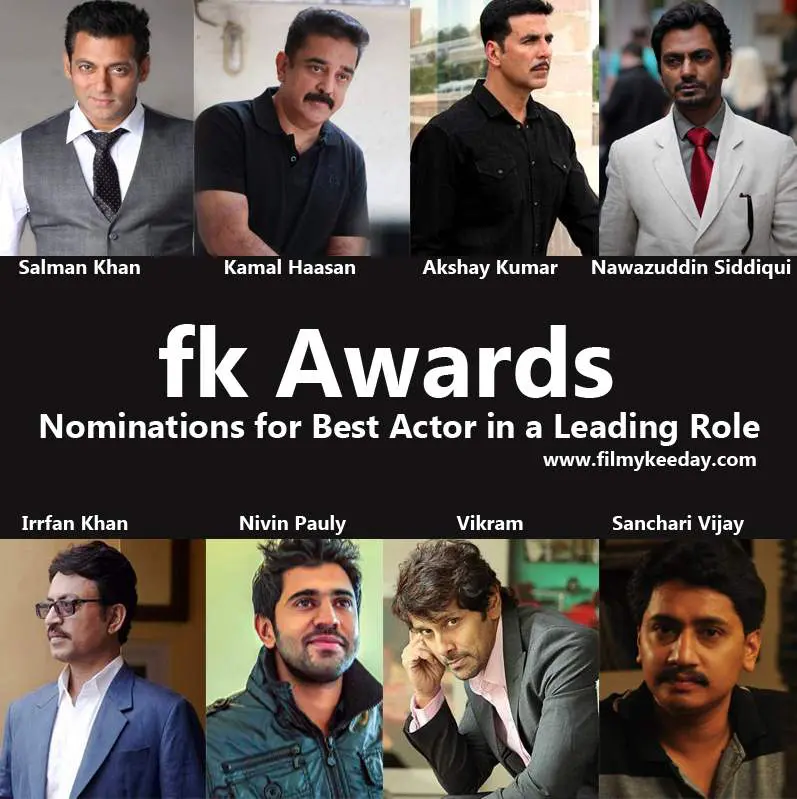 Salman Khan as Pawan in Bajrangi Bhaijaan (Hindi)
A beautiful comedy-drama, Bajrangi Bhaijaan saw a great performance from the Bollywood mass entertainer, Salman Khan. Salman Khan justifies the role of Pawan, who is an innocent, an idealist and a prime devotee of Hindu God Hanuman. His portrayal of kind-hearted and honest Indian young man who breaks all barriers to reuniting a Pakistani girl with her parents in Pakistan. The reason Salman Khan makes into our list of nominations is because of his versatile performance given with a blend of comedy, action, and intensity.
Kamal Haasan as Manoranjan in Uttam villain (Tamil)
Known for his versatile performances in several movies in the past, Kamal Haasan delivers yet another brilliant performance as a dying superstar who wants to call it off with a movie under the direction of his mentor and favorite director. Though a comedy, Kamal Haasan has pulled off some intense scenes in the movie that puts his performance among the nominations for Best Actor at FK Awards.
Akshay Kumar as Ajay Singh Rajput in Baby (Hindi)
Akshay Kumar is one actor, who can disappoint you with overly entertaining movies like Entertainment and the same time surprises you with a great performance in Baby. Although, Akshay established himself as an Action star in Bollywood in his early years, lately we have been seeing that he has the shift towards too much comedy films while giving some good movies like Special 26 and Baby in between. His portrayal of Ajay Singh Rajput as an Indian secret agent looks so real that you can't have a hint of doubt about the character. Thanks to his martial arts training and intense look in the movie, he completely justifies the character of Ajay Singh Rajput.
Nawazuddin Siddiqui as Dashrath Manjhi in Manjhi (Hindi)
All of us know that Nawazuddin Siddiqui has established himself as a complete actor with some superb performances as a comedian, villain, as well as a supporting actor. However, he has raised his bar with his portrayal of Dashrath Manjhi in the biographical movie of The Mountain Man giving one of his best performance. The depth of his portrayal as Manjhi can be experienced with the couple of intensive dialogues that would make you whistle while watching the movie at the cinema hall.
Irrfan Khan as Ashwin Kumar in Talvar (Hindi)
There are no doubts about the talent of Irrfan Khan as an actor. He has proved his mantle in both Bollywood and Hollywood movies. His performance as the main investigating Ashwin Kumar in Talvar, a movie based on 2008 Noida double murder case adds yet another amazing performance under his belt. His portrayal of an honest, quick wit and the smart investigating officer makes us stay glued in the seat till the end of the movie and hence his performance makes into our nominations.
Nivin Pauly as George David in Premam (Malayalam)
Registering the biggest opening in the history of Kerala Film industry, Premam is already winning hearts across the country. A lot of credits must go to the superb performances by the actors in the movie and the highest portion of that credit goes to Nivin Pauly, who plays George David in Premam. Nivin Pauly is considered among those who are taking the Malayalam film industry to another level and he has successfully delivered the best performances in some coming-of-age films like Bangalore Days and now Premam.
Vikram as Lingesan in I (Tamil)

If there's any character that required the challenge in 2015, then it was the character portrayal of Lingesan in Shankar's I. However, Vikram justified this character portrayal of Lingesan to perfection raising the bars of acting across India. His changed looks in the movie and dedication towards every look earned him the nomination in the Best Actor category.
Sanchari Vijay as Madesha/Vidhya in Naanu Avanalla… Avalu ( Kannada)

No matter how qualified or versatile a great actor is, we have seen in the history of Indian cinema that these actors have often limited their roles and have always kept them away portraying a transgender or eunuch in the movie. However, Sanchari Vijay broke all taboos by portraying the character of Madesha and Vidhya, who converts himself into a transgender after realizing that he is a female in the body of a male. His performance as Madesha and Vidya also fetched him the National Award for Best Actor in 2015.
That's it. We are open to more nominations and if you feel that there's a performance, we missed on our list, then let us know in the comments below.
Our Jury will select the best Actor for 2015 , but you can Vote for Best Actor in 2015, We will also mention the winner selected by our readers!
[polldaddy poll=9219126]