Rang De Basanti is a great film and if you watch it once you will feel like you are missing something in life, it shows that we have take a stand for our problems, or we should keep quit. Rang De Basanti was an eye opener movie for the Youth of India. How 5 Youngsters of Delhi University took a bold step in their life, by which the youth of whole country wakes up.
We are sharing some most Famous Dialogues of Rang De Basanti.
Aamir Khan Dialogues in Rang De Basanti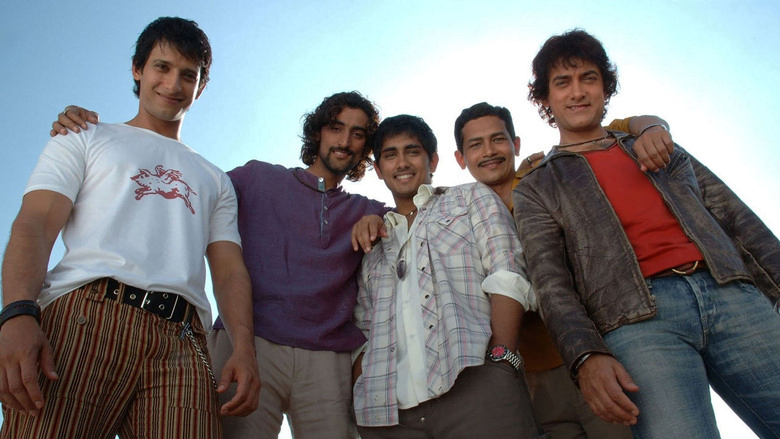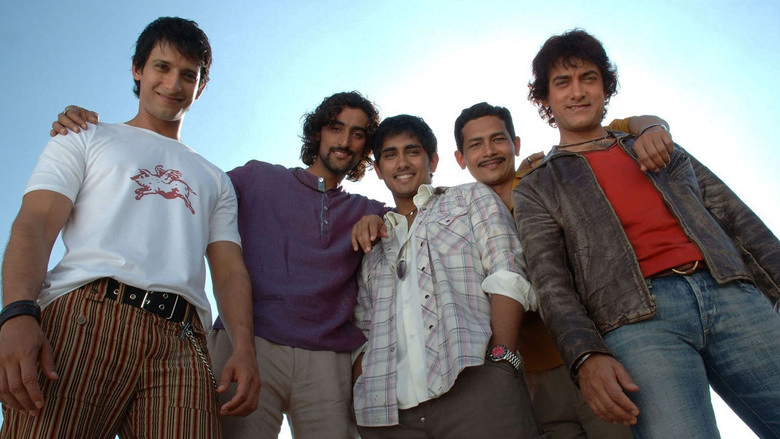 Maut ki ungli!!
(Punjabi) maa eh hain teri nu aida naa hega su
Su kar mere man ko kiya tune kya isara
Oye gulabo tu kuch bhi keh mood tu main hi set kar raha hoon!
Oye sue eh ki naan hai yaar inni gulabi gulabi ..iska naam to Gulabo hona chahiye..
Oye bebby dekh main tere wastey kini soni cheez laya hoon…..
Eh hai teri noo…..teri bahoo…..aaida naam haiga sue…..
khas london say pher kar laya hoon aslaiye to ainay din aa nai sakiya…..
Zindagi jeene ke do hi tarike hote hai …
ek jo ho raha hai hone do, bardasht karte jao…
ya phir zimmedari uthao usse badalneki
Sukhi sala gali ka ek kutta bhi nahi bhonkega humari maut par..
Ab bhi jiska khoon na khaula, khoon nahin voh paani hai …
joh desh ke kaam na aaye woh bekaar jawani hai
College de gate de is taraf hum life ko nachate hai …
te duji taraf life humko nachati hai…..
Bismil ka sandes hai ki lahore janewali train hum kakori ke paas lootenge aur unhi paisose hathiyar kharidenge.
Woh past ki gal kar rahi hai aur tu future de piche pada hai..
Ek pair past mein hai teh ek pair future mein hai …
tabhi toh hum aaj pe moot rahe hain
lala ji ki maut ki keemat to unko chukani hogi scott ko hum nahi chord sakte..
oye bhen de tu show on rakhio warna tujhe off kar dunga..
 Dj, yeh toh bohot khoon beh raha hai yar?
DJ: Koi ni ,kaake. ragon mein daudte daudte thak gaya tha. Azad hona chahta hai.
Others Dialogues
I always believed there were two kinds of men in this world, men who go to their deaths screaming, and men who go to their deaths in silence. Then I met a third kind.
(Hindi) Mujhe hamesha lagta tha ki duniya mein do tarah ke insaan hote hain …
ek joh chupchap maut ka daman thaam lete hain …
aur doosre joh rote chilaate maut ki taraf badhte hain …
aur phir main teesre kisam ke insaanon se mila…
khali bali khali bali khali bali
lambu mera yaar uski chhoti gali
aslam ki gali
Abey Dj saade concentration ki batti na bujhaa !!
Koi bhi desh perfect nahin hota … usse behtar banana parta hai
Siddarth Narayan Dialogues in Rang De Basanti
Tum system ko badlne ki koshish karte ho..yeh system khudh tumhe badalta hai
Baap ka paisa hai … pade pade sadd jata hai
Maine apni zindagi desh ki azadi ke naam kar di hai.. Aish o aram ghar naukari jaisi cheeze mere liye koi mayene nahi rakhti.. Main janta hu aap chahte hai meri shadi ho, mera ghar basey, jaise har bachhe ke maa baap chahte hai, Par meri dulhan to azaadi hai.. Aapka Agyakaari beta Bhagat Singh!
Jo log Uncha sunte hai unhe dhamake ki zarurat hoti hai
Also Read : Movies Based on the life of Bhagat Singh
Kunal Kapoor Dialogues in Rang De basanti
Door se dus pass se bus … woh bhi DTC
Taqdeer badlne ka hoonar hai tum me
jane kitno ko raste pe lana hai tume
tume chahne wala kali t-shirt me aayega aur tumse kahega
Shaheedo ke mazar par langenge har baras mele,.
watan par marne walo ka,. bas yehi namo nishan hoga…
Mujhe to lagta tha ki hum kisi cheez ke liye lad jayenge aisa koi jazba hai hi nahi humare ander…
Dialogues of Atul Kulkarni
Meri prathna to Tab tak chalegi jab tak mere desh ko azaadi nahi milti..
mujhe nahi lagta aap tab tak intezaar kar sakte hai..
Fasadi nahi wo Krantikari hai unhe krantikari kahiye..
Poetry in Rang De Basanti
Sarfaroshi ki tamana ab hamare dil main hai.. Dekhna hai zor kitna bazu-e-qatil main hai..
Karta nahi kyon dusara kuch bat-chit.. dekhata hun main jise.. vo chup teri mahfil main hai..
Ai shahid-e-mulk-o-millat main tere upar nisar.. Ab teri himat ka charcha.. gair ki mahfil main hai..
Waqt ane de bata denge tujhe ai asman.. Ham abhi se kya batayen.. kya hamare dil main hai..
Khinch kar lai hain sabko qatl hone ki ummid.. Ashiqon ka aj jamghat kucha-e-qatil main hai..
Sarfaroshi ki tamana ab hamare dil main hai.. Dekhna hai zor kitna bazu-e-qatil main hai..
Hai liye hathyaar dushman taak mein baitha udhar, Aur hum tayaar hai seena liye apna idhar, Khoon se khelenge holi gar watan mushkil me hai, Sarfaroshi ki tamanna ab hamare dil me hai, Dekhna hai zor kitna baju e katil me hai."
Haath jin me ho junoon katate nahi talwar se, Sar jo uth jate hai wo jhukte nahi lalkaar se, Aur bhadke ga wo shola sa hamare dil me hai, Sarfaroshi ki tamanna ab hamare dil me hai.
Hum to ghar se nikale hi the bandh kar sar pe kafaan, Jaan hateli par liye lo kar chale hai ye kadam, Zindagi to apni mehmaan mout ke ke mehfiil mein hai Sarfaroshi ki tamanna ab hamare dil me hai.
Dil mein toofano ki doli aur naso mein INQUILAB, Hosh dushman ke udaa denge hame roko na aaj, Duur reh paye jo humse dum kaha manjil mein hai, Sarfaroshi ki tamanna ab hamare dil me hai. Dekhna hai zor kitna baju e katil me hai.