Haider is the upcoming movie of Vishal Bharadwaj based on the william Shakespeare's 'Hamlet'. Films by Vishal Bharadwaj always gives us some great dialogues We have seen some great dialogues by langda Tyagi(Saif Ali Khan) in his Omkara. His movies has some great poetic way of dialogues and in his upcoming movie. you can check some good dialogues of Haider in Trailer. We will share more Haider Dialogues after the movie release.
Dialogues of Haider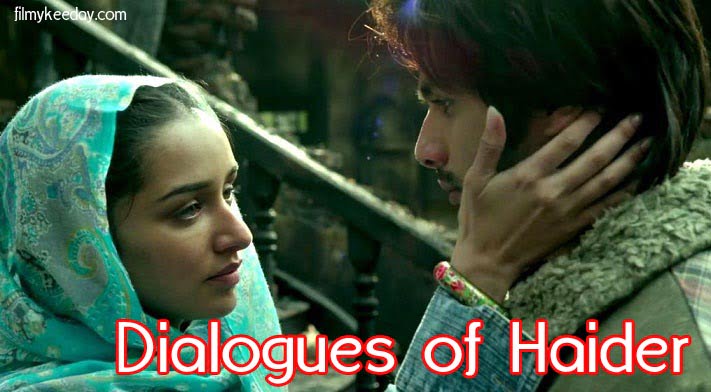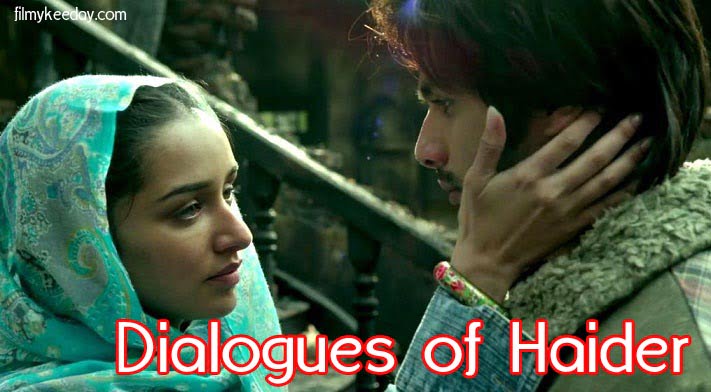 Haider mera Inteqam lena Mere Bhai se
Uski Dono Aankhon me Goliya Dagna..
Jin ankhon se usne tumhari maa pe fareb dale the.
Varna tu bhi disappear ho jayega, aapne baap ki tarah
Dil ki agar sunu toh tu hai… Dimag ki sunu toh tu hai nahi. Jaan lun ki Jaan dun? Main rahoon ki main nahi
Yeh chup-chup ke naach gaana pehle bhi hota tha ke abhi-abhi shuru hua hai… babuji ke baad
Dissapered logo ki Biwi Adhi Bewa Kehlati hai
Maa Jab juth Bole na.. nahi achi lagti..
Hello… mike testing 1 2 3… hello…
Aawaz aa rahi hai aap logon ko
hello… hello… hello… hello…
Do haathi ladtey hain to ghaas kuchli jaati hai.
Vaishi bhediya ban gaya shukar hai asteen ka saamp nahi bana.
Aap elections ladne ki taiyaari kijiye chacha, meri ladayi toh shuru ho chuki hai.
Bandook sirf inteqam lena jaanti hai.
Ab na hemein chode Pakistan, ab na hamein chode Hindustan,
ary koi to poochy ham kya chahte ! Aazadi.
Us paar bhi leinge, aazadi, us paar bhi leinge, aazadi, hum le kar raheinge, aazadi !
Roohdar ka afsana sacha, ya jhooti kahani chacha ki,
kis ka jhoot jhoot hai, kis ke sach mein sach nahi.
Hai ke hai nahi, bas yehi sawal hai, per sawal ka jawab bhi sawal hai.
Jism gal ke mitti ban jata hai aur matti se banty hain ghade,
surahi aur khilony. Sikandar ho ya Akbar,
Hitler ho ya Gandhi sab mitti mein mil jaty hain.
Dialogues of Irrfan Khan in Haider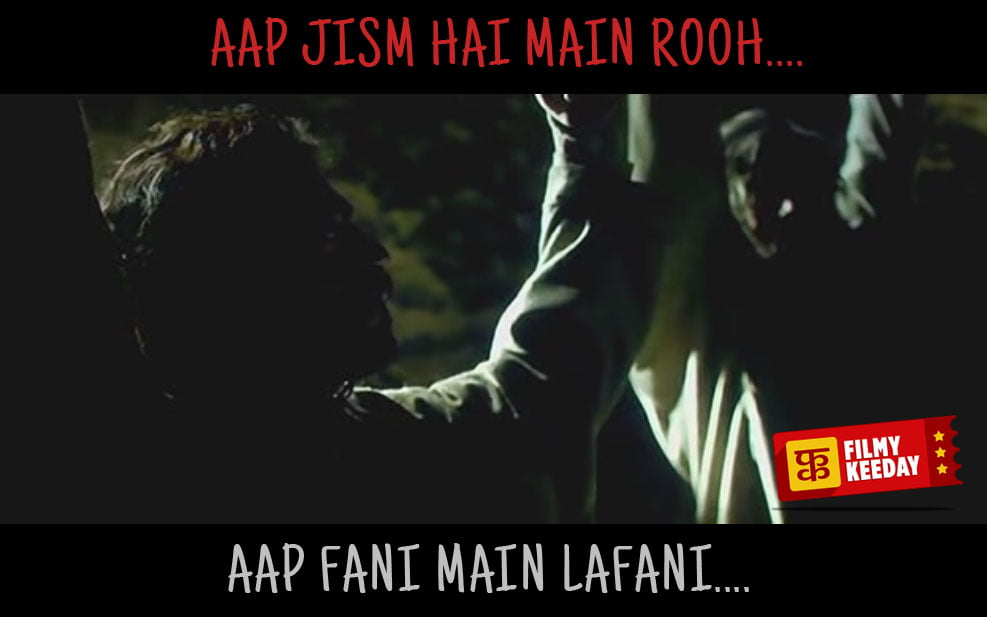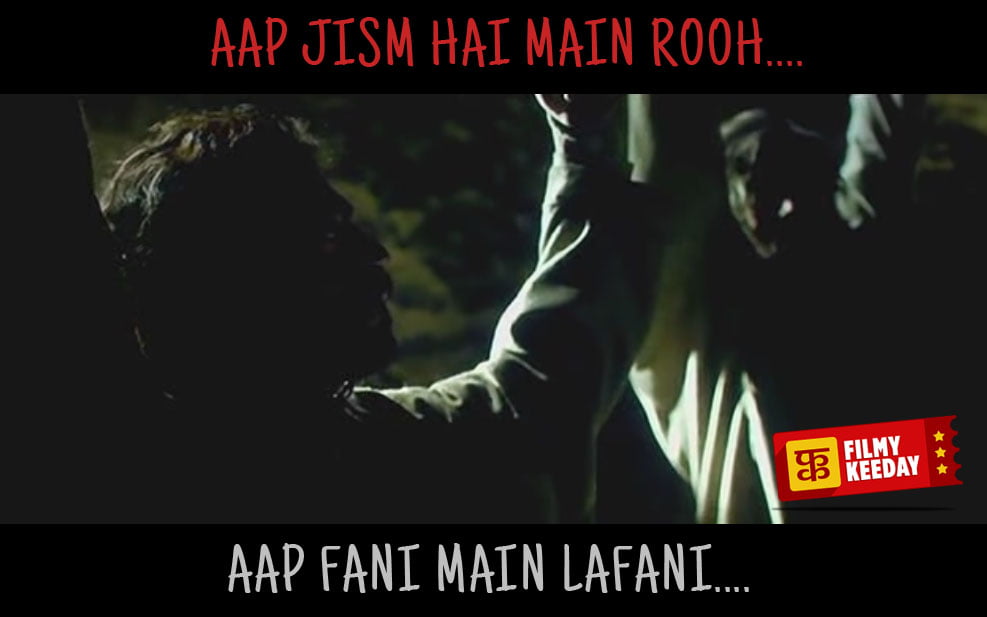 Aap Jism hai main rooh..
Aap Fani main Lafani.
Talashi ki itni adat ho gayi hai logo ko ki..
Jab Tak koi tatol na le apne ghar me bhi nahi ghuste.
Aap Doctor hai kya?, Main Doctor ki Rooh hu…
Apka naam kya hai?, Rooh Roohdar…
Qaid Khano me jab sari cheekhe sari aahe galo me dafn ho jaati thi…
Tab ek awaz bilakhte hue sannate se sur mila ke raat ke zakhmo pe marham lagaya karti thi.
Bulb Suraj ki tarah Dehekta tha Kothri me Andhere ko Taras jaati thi aankhen, Badan pe Juye rengti thi aur andar ajgar..
Dariya bhi mein darakht bhi mein, jehlam bhi mein chanab bhi mein, deir hon haram bhi hoon, shiyah bhi hoon sunni bhi hoon, mein hoon pandit, mein tha mein hoon aur mein hi rahon ga.
Shahid Kapoor's Monologue Complete with Dialogues
hello
Hello..
Mic testing 1,2 3 Hello…
Awaz aa rahi hai aap logo ko? hello..
hello, hello, hello, hello, hello…
UN Council Resolution no 47 of 1948
Article 2 of the geneva convention
and article 370 of the Indian constitution
bas ek sawal uthata hai bas ek..
Hum hain ke hum nahin..
hum hain to kaha hain aur aur nahi hai to kaha gaye, hum hai to kisliye aur kaha gaye to kab?
Janaab, hum they bhi ya hum they hi nahi…
chutzpah ho gaya humare sath…
chutzpah jante hain aap log?
Ek baar ek bank ke ander dakaiti hui, dhiskyaun dhiskyaun,
Dicoit ne cashier ke sar par pistol rakha aur bola ke paise de warna maut le..
Cashier ne sare paise jhat se utha ke dicoit ko de diye..
dicoit wahi paise lekar agle counter pe gaya..
excuse me mujhe ek form dijiye mujhe account kholna hai..
Yeh hota hai chutzpaah
besharam gutakh jaise afspa, afspa
Saavdhan
Armed forces special powers act section 5 , rule 4 point A
Any Commissioned officer, Jee Janaab..
Warrant officer , Jee Janaab
non commissioned officer , jee Janaab..
or any other person of the equivalent rank in the armed forces may, in a disturbed area if he is of the opinion that it is necessary so to do for the maintenance of the public order and after giving such due warning as he may consider necessary fire upon or otherwise use force, even to the causing of death…………. against anyone acting in the contravention with law or order.
Law and order
Law and order
Law and order
Law and order
Law and order
Law and order
na hai law na hai order
jiska law hai uska order
made on order law and order
India Pakistan ne milke khela humse border border..
ab na hume chhode hindustaan,
ab na hume chhode pakistan.
arey koi to humse bhi puche ke hum kya chahte… Aazadi
is paar bhi lenge.. Aazadi
us paar bhi lenge… Azadi
hum leke rahenge…. aazadi..
Also Read :
Music Review, Trailer Review and Story of Haider