The Xpose is a Himesh Reshammiya film, Himesh is making a comeback to acting after a long time with The Xpose. Yo Yo Honey Singh is making a debut with the film, and will be seen in a negative role. Many parts of the film are being compared with Leonardo Di Caprio's The Great Gatsby. To know, if the film is completely inspired from The Great Gatsby or only a few parts have been copied is still a suspense.
The Xpose 2014 Full Cast and Crew
Director: Anant Mahadevan
Produced By: Vipin Reshammiya
Written By: Himesh Reshammiya
Music By: Himesh Reshammiya
Yo Yo Honey Singh
Lyricist: Himesh Reshammiya
Star Cast: Himesh Reshammiya as Ravi Kumar
Sonali Raut as Zara
Zoya Afroz as Chandni
Honey Singh as K.D. (Kenny Damania)
Anant Mahadevan as Director
Irrfan Khan as Alec D'Costa
Rajesh Sharma
Adil Hussain
Daya Shankar Pandey
IMDb– Musical- Thriller
Release Date: 16 May 2014
The Xpose 2014 Synopsis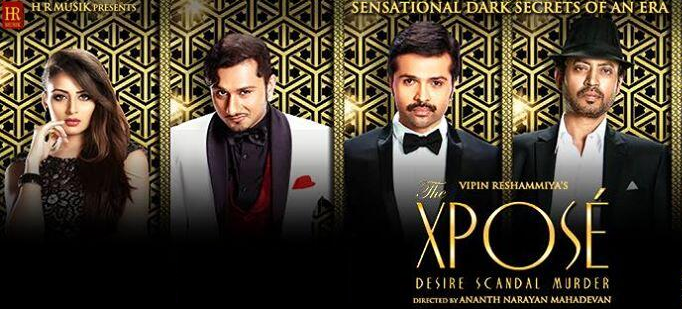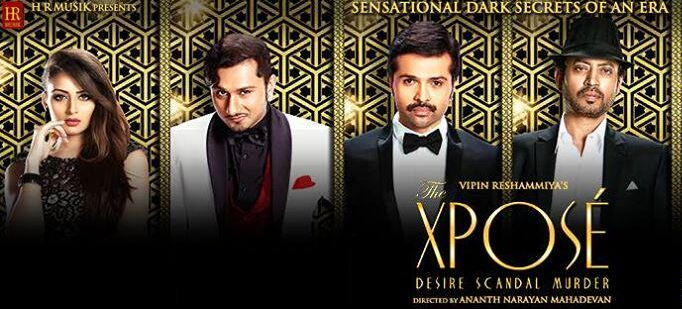 The story of the film is about two rival actresses, one of which is murdered. The prime suspect of the murder id the rival actress and to investigate the case comes the Ex-cop turned detective, Himesh Reshammiya. Irrfan Khan will be seen in a supporting role.
The Xpose 2014 Music Review
Highly disappointing music of The Xpose has put a question mark for Himesh Reshamiya. Even the magic of Yo Yo Honey Singh seemed to have failed for the music album of The Expose. There is only one soulful song that we could have loved, if parts of that song were not copied from such a famous song of Aashiqui 2.
The lyrics failed to impress and so the music album of The Expose. 1 star out of 5 for The Expose music.
The Xpose 2014 Tracklist
Ice Cream Khaungi
Dard Dilo Ke
Hai Apna Dil Toh Awara
Sheeshe Ka Samundar
Catch Me If You Can
Surroor
Dard Dilo Ke (Reprise)
Sheeshe Ka Samundar (Reprise)
Icecream (Remix)
Dard Dilo Ke (Remix)
Hai Apna Dil (Blue'S Mix)
Surroor (Arabic Mix)
Catch Me If You Can (Remix)
Hai Apna Dil (Desi Remix)
Sheeshe Ka Samundar (Remix)
Surroor (Remix)
Theme of Xpose
The Indian Great Gatsbay
The Xpose 2014 Trailer
Dialogues of The Xpose 
'Tere Shareer Main Itna Khoon Nahin Hoga' – Dialogue of The Xpose
'Na Dance, Na Expression, Na Pose, Sirf Xpose' – Dialogue of The Xpose
'Raja Ka Beta Bhale Hi Nanga Paida Ho' – Dialogue of The Xpose
'Ravi Kumar Langot Ka Bahut Pakka Hain' – Dialogue of The Xpose
The Xpose Dialogue Lyrics
Hamari Film Mein kam karoge…..?
Magar meri ek shart hai….
Main villan se mar nahi khaunga….!
Vo kahavat suni hogee apne…..
ki raja ka beta bhale hi nanga paidaHo…
Magar hota vo rajkumar hi hai…!
Ravi Kumar ji ….
agar aap Vishwamitra Ho …
to main bhi Menka hun
Apki tapsayaa Bhang kar dungi…!
Ravi Kumar Langot ka bahut pakka hai…
Vo bista pe nind ke alawa
Kuch nahi leta hai
Tumne mera istmal kiya….Maine tumhara…jitni publicity mili hai
na meri vajah se..sukar manao..varna kutta bhi nahi puchta tum jaisiyoun ko
Is shahar mein kapdon jyada Mard badlti ho….!
Tum is bikni mein kamal ki lagogi chandini…..
Sorry sir main expose nahi karungi..!
Jab tujhe pyar ho jayega na…
tab tujhe sahi aur galat mein koi fark nahi dekhega….!
Ek Maut Hui Hai…
Khoon Kharabe se main bhi nahi daarta…..
Tere sharir mein jitna khoon nahi hoga
Jitna Ravi kumar ek baar mein Mut….Deta hai..!
Ye role pane ke liy mujhe kya karna hoga…..
Na dance ….na expression …na pose……Sirf Expose…!