R.. Rajkumar is an action romance movie starring Sonakshi Sinha and Shahid Kapoor. The movie was earlier named Rambo Rajkumar. The word Rambo has been copyrighted by the makers of original Rambo series and that's why the name of the movie had to be changed.
After the failure of Phata Poster Nikla Hero, R…Rajkumar is looked as another comeback for Shahid Kapoor. The movie is very important for the career of Shahid Kapoor. Sonakshi Sinha as stepped one more step in the movie as an actress, She has performed some action stunts in the movie, this could be the last chance for Shahid Kapoor , Box office collections of Shahid Kapoor's Movies are falling everytime, and if the Box office Collections of R Rajkumar falls again then producers and directors will start thinking to reject Shahid for future projects.
R Rajkumar director Prabhu Deva launched a comic series inspired by the movie on 29 November 2013.
R…

Rajkumar

Movie Full Cast and Crew
Director: Prabhu Deva
Produced By: Viki Rajani
Sunil Lulla

Written By: Sunil Kumar Agrawal, Prabudheva, Shiraz Ahmed, Ravi S Sundaram

Music By: Pritam Chakraborty, Sandeep Chowta

Star Cast: Shahid Kapoor as Rajkumar
Sonakshi Sinha as Chanda
Sonu Sood as Shivraj
Poonam Jhawer
Ashish Vidyarthi as Manik Parmar
Mukul Dev
Asrani
Srihari as Ajit Taaka
Charmy Kaur (Special appearance in song "Gandi Baat")
Ragini Dwivedi (Special appearance in song "Kaddu Katega")
Scarlett Mellish Wilson (Special appearance in song "Kaddu Katega")
Stunts: Ravi Varma
Genre: Action, Romance
Release Date: 6 December 2013
R…

Rajkumar

Movie Synopsis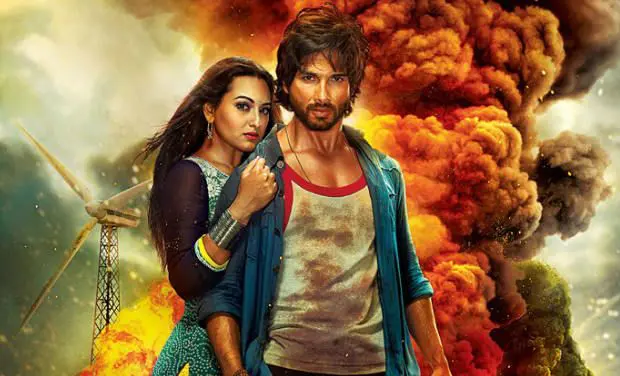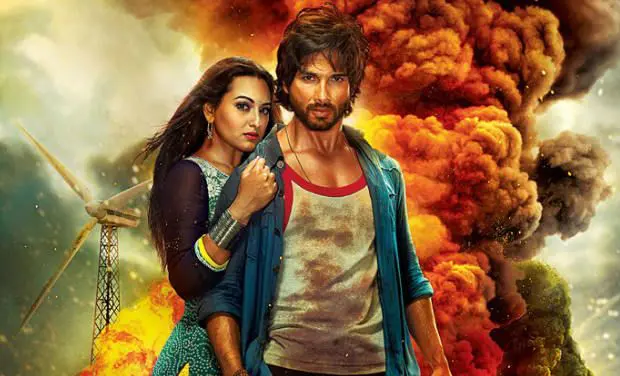 R Rajkumar is a masala entertainer with action and romance. Rajkumar (Shahid) is a young boy who doesn't have any aim or aspiration from life. Rajkumar is a fearless boy who can take stands and fight. Rajkumar works with a drug Baron, Shivraj (Sonu Sood). Shivraj gives Rajkumar  a mission to kill his rival dealer. But Rajkumar falls in love with Chanda (Sonakshi Sinha) who is an orphan raised and bought up by the rival whom Rajkumar has to kill. 
R…

Rajkumar

Music Review
R… Rajkumar music has lots of flavor in one single album. None of the song is a part of the narrative and are full bang on songs. Catchy phrases and lines with hyper energetic rhythms give the album a boost. Whereas the songs aren't up to the mark, they aren't bad too. Some of the songs like Gandi baat and Saree ka fall sa are making the youth groove. Dhoka Dhadi is a romantic number in the album. On the whole FilmyKeeday give the music of R Rajkumar 3 stars. 
R…

Rajkumar

Movie Tracklist 
Gandi Baat
Saree Ke Fall Sa
Mat Maar
Dhokha Dhadi
Kaddu Katega
Saree Ke Fall Sa (Remix)
R…

Rajkumar

Dialogues
Silent ho ja …Varna Mai Violent ho jauga (Shahid Kapoor)
Itni si size or itni badi chalaang
Chote size ki cheez hi bade bade kam karti hai (Shahid and Other)
Nautanki h Saala (Sonu Sood)
Teri aisi taisi kamine…. Jaata h ki dun ek (Sonakshi Sinha)
Chup chap yahan se chale jao …varna (Sonakshi Sinha)
Gusse se bolegi…nahi jaunga, Pyaar se bolegi marr bhi jaunga (Shahid Kapoor)
Mere muh mat lag mein sehat ke liye bahut Haanikaarak hu (Sonu Sood)
Mere life me sirf do cheez hai…Pyaar Pyaar Pyaar yaa Maar Maar Maar (Shahid kapoor)
Mai paise ke liye kuch bhi kar sakta hu to soch main apne pyar ke liye kya kya karunga (Shahid Kapoor)
Naam Kya hai (Sonu Sood)
Rajkumar….Pura naam 6 December ko sun lena (Shahid Kapoor) 
R…

Rajkumar

Movie Trailer
R…

Rajkumar

Movie Full Box Office Report
Coming Soon……