Bullett Raja Movie Star Cast
Actors: Saif Ali Khan, Sonakshi Sinha, Jimmy Shergill
Producer: Rahul MIttra, Nitin Tej Ahuja, Tigmanshu Dhulia
Director: Tigmanshu Dhulia
Music: Sajid-Wajid, Sandeep Nath
Bullett Raja – Can Saif create magic with Bullett and Sonakshi?
Bullett Raja is a masala entertainer in the lead with Saif Ali Khan, Sonakshi Sinha and Jimmy Shergill. A poor simple man, Raja Mishra's life twists and rolls only to transform him into a gangster. Amidst bullets and guns he finds love in Sonakshi Sinha. The movie is about Revenge, Politics and Love.
What I feel about Bullett Raja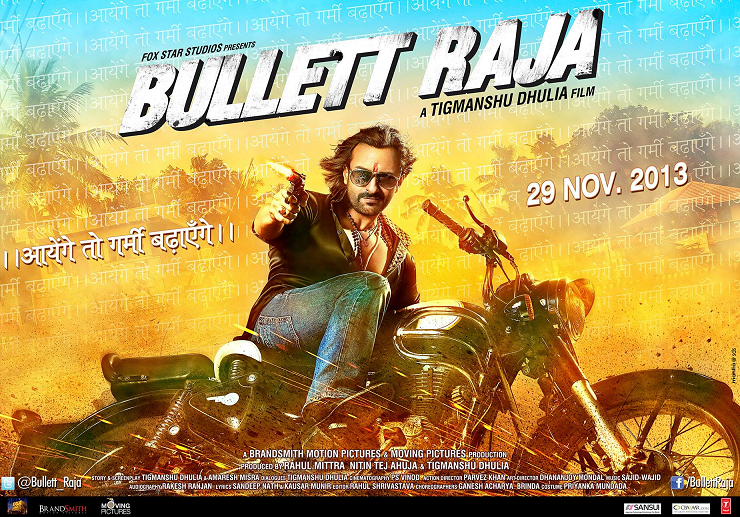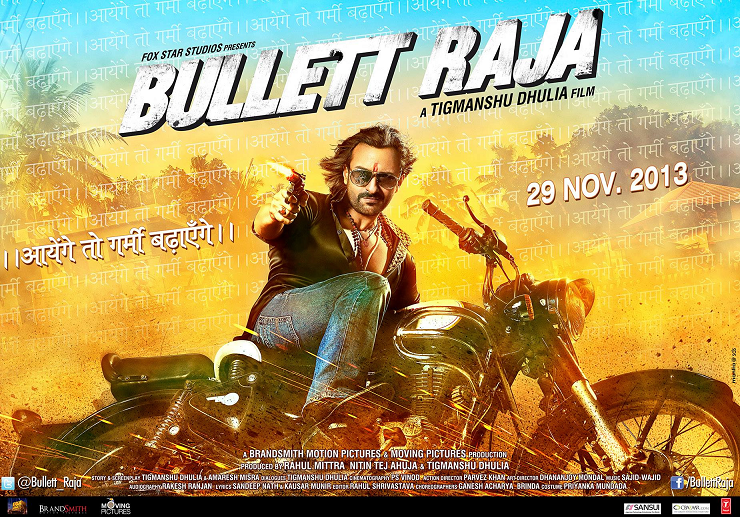 I feel a movie with great dialogues and power packed acting goes waste if the story doesn't support them. Bullett Raja is one such case, the star cast has worked great but the story lacks something. It felt as if Tigmanshu Dhulia wanted to add lots of things in a simple recipe. The movie is a one time watch, great dialogues and great acting with bad editing and loose storyline.
Bullett Raja Story
Raja Mishra a simple man, but his life's strange events takes him to a wedding party where he befriends with the bride's cousin Rudra (Jimmy Shergill). A gang attack at the wedding ends up with Rudra and Raja in jail. The victimization turns them into Gangsters. Amidst nexus of Police, government politics and big Industrialists, Raja loses his dear friend Rudra. Outraged Raja Mishra is all set to take avenge of the death of Rudra.
With all the fights, revenge and avenge going on, Raja finds love in a simple Bengali girl Sonakshi. How does this gangster fall in love? Would he be able to get his lady love?
Bullett Raja Verdict
I wish the movie had a more sturdy script to hold on everything together. The movie doesn't have much scope at box-office as Goliyon Ki Rasleela- Ram Leela is on screens to give Bullett Raja a tough competition.
The movie gets a hold with some great acting and nice dialogues to keep you entertained. We would not say the movie is not worth a watch, but the movie is also not a great one. It's a onetime watchable masala movie.
Filmy Keeday Bullett Raja Movie Rating
Filmy Keeday : 2 Stars
Bollywood Hungama : 4 Stars
Koimoi :  2 Stars