Bewakoofiyaan is a light comedy movie filled with romance. The movie stars Sonam Kapoor, Ayushmann Khurrana and Rishi Kapoor. The pairing of the duo is new and the trailers look promising. The critics haven't responded much in the trailer and the movie is being promoted, but not on a very large scale.
The movie is being released on 14th March, which is going to clash with first T20 cricket World Cup. This can be really disastrous for the movie's overall business.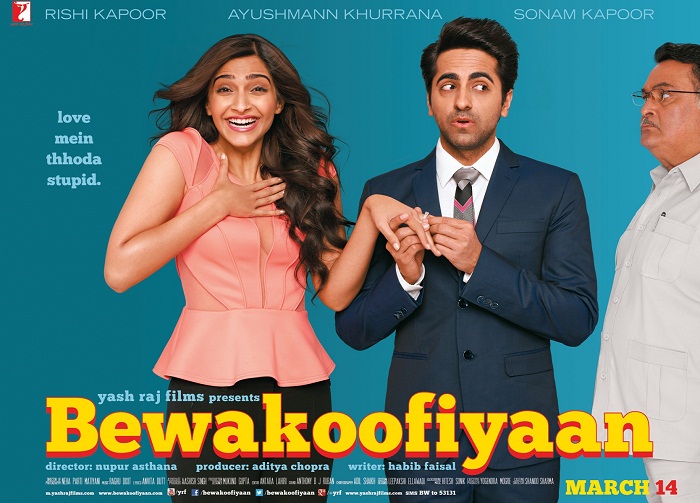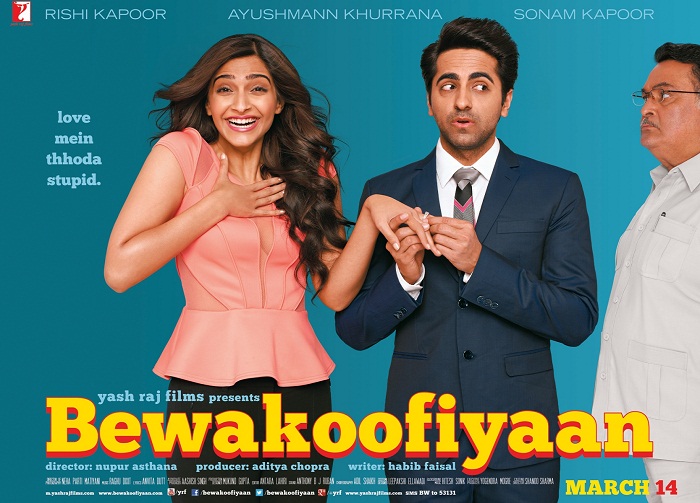 Bewakoofiyaan (2014) Full Cast and Crew
Director: Nupur Asthana
Produced By: Aditya Chopra
Written By: Habib Faisal
Music By: Raghi Dixit, Hitesh Sonik
Lyricist:
Star Cast: Ayushmann Khurrana as Mohit Chadhdha
Sonam Kapoor as Mayera Sehgal
Rishi Kapoor as V. K. Sehgal
Genre: Romance, Comedy
Release Date: 14 March 2014
Bewakoofiyaan (2014) Synopsis
The movie is about Sonam Kapoor, who is beautiful and belongs to a well to do family, whereas Ayushman Khurrana is a common man who isn't doing really well in his career. They both are madly in love but like every Bollywood film, there is a problem in this love story too. The girl's father, Rishi Kapoor doesn't like Ayushman Khurrana at all. Will Sonam and Ayushman's love story make it? Or Will Rishi Kapoor breaks it?
Bewakoofiyaan (2014) Music Review
The music of the movie has been given by Raghu Dixit and Hitesh Sonik. The songs are peppy and youthful. Few of the songs are already topping the charts and have become the favorites of the Music Lovers. O Heeriye is sung by Ayushman Khurrana, which is loved by all the fans of Ayushman Khurrana.
Bewakoofiyaan (2014) Tracklist
Gulcharrey
Khamakhaan
Bewakoofiyaan
Rumaani Sa
Aye Jigida
O Heeriye
Bewakoofiyaan (2014) Trailer
)