Sunny Deol's dhaai kilo ka hath almost got famous as soon as he told the world about it. Sunny Deol is one of the rarest Hero, who has made his name by his power packed performances, Almost all his movies have shown him with immense energy, anger and a series of dialogues which hit every heart just like his punches and stunts. Even his upcoming movie, Singh Saab The Great has got amazing dialogues and fight scenes waiting for you all. The trailers of the movie have already moved like a wild rush of air with the fire in Sunny deol's eyes and dialogues.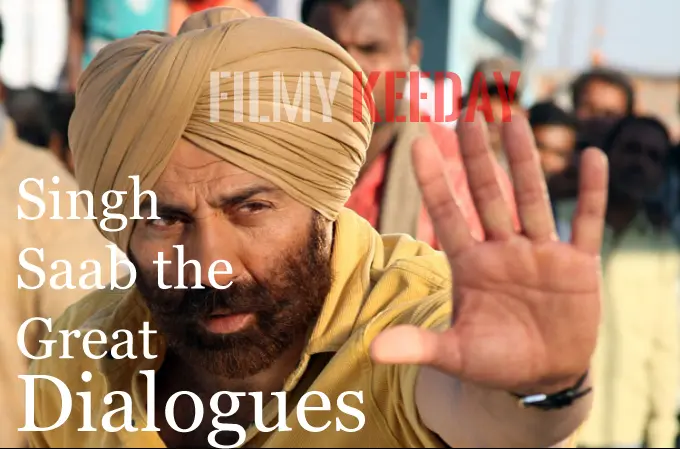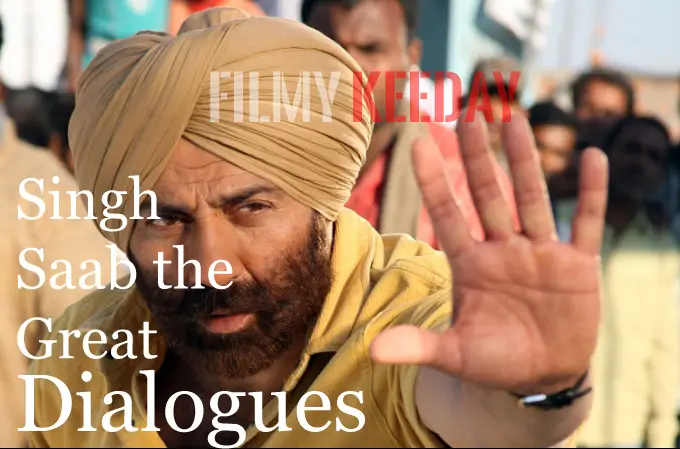 Sunny Deol is a man of few words, really shy and calm in his real life but as soon as you watch the trailer of Singh Saab The Great, you will get a big shock. Sunny Deol's anger in real life is as popular as in his movies, but he has much more patience in his real life. Sunny Deol has an exclusive fan following from always who like him as for his power packed acting, stunts, fights and dialogues and not because he is an actor. And I am sure this exclusive fan following is waiting for the movie to release and all the more want to know the dialogues of the movie.
Also Read : All hit Dialogues of Sunny Deol
Dialogues of Singh Saab The Great
Sunny Deol
Guru Gobind singh ji ne kaha hai papiyo se vinti karo.. Samjhao, agar wo phir bhi na mane to sabki bhalai ke liye talwar utha lo…
Lekin tum sbke liye to mera hath hi kaafi hai..
Sunny Deol
Bali Hamesha Bakre ki Di jaati hai Sher ki nahi
Prakash Raj
Aise phodenge aise phodenge ki tu phad phad phad phad phad phad phad phadayega..
Rajit Kapur
Badla nahi badlav
Sunny Deol
Duniya Buri isliye nahi hai ki Bure logo ke hath me taqat hai, Duniya buri isliye hai kyuki ache log ek sath milkar apni taqat ka Istemaal nahi karte..
Sunny Deol
Chup oye! Itna marunga ki teri power dhari ki dhari reh jayegi aur tu apni haddiya judwate judwate kangaal ho jayega..
Sunny Deol
Sardar jab Dushman ko pakad leta hai na Toh uski haddiya tadtadane lagti hai..
Tad tad tad tad tad tad tad tad tad tad…..