Sarabhai VS Sarabhai was a hit sitcom of India. All the characters of that show were hilarious and everyone had a unique way and their own style. If you are a Sarabhai VS Sarabhai fan, then you don't need any introduction of Rosesh Sarabhai or Rosech Sarabhai. Youngest son of Maya and Indravadan Sarabhai and his poems really funny you will laugh hysterically.
Great Poems of Rosesh Sarabhai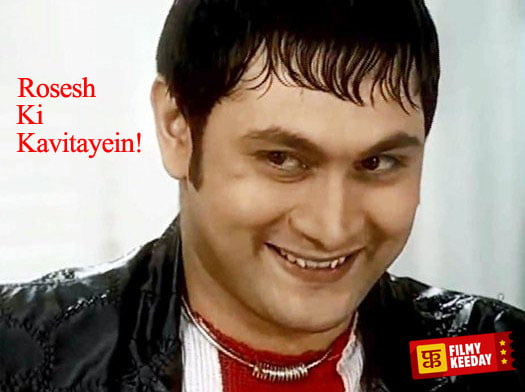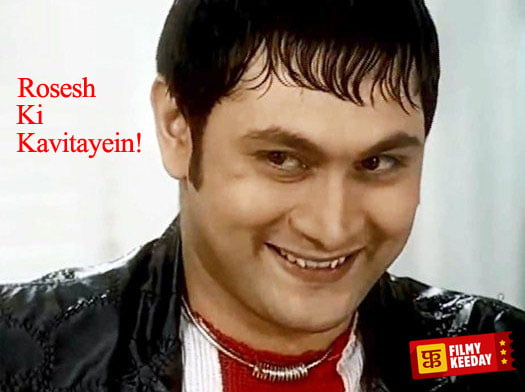 1. Tum bin jaise mai raaste ka andha bhikhari
thodi blessings daan me de do
thodi mamta tumhari
momma ho momma ho………
2. Popat Kaka ki atma ka Popat ud gaya ud gaya ud gaya rey…
Shristey k sajjan haath se popat jud gaya jud gaya jud gaya rey……..
3. Tugduk tugduk tugduk..
Momma ne bola rosesh..
Ruk ruk ruk ruk ruk ruk…..
Maine peche dekha …..
Look look look look look look….
Momma ne mujhe di ek horse riding ki…
Book book book book book book……….
4. Humpty dumpty sat on the gadi
gadi pe betha tabhi aa gayi dadi
dadi ne kaha aaja mere paas
kyuki gadi pe bethna is just so middle class………
5. Hawa mein hain Victory ki aroma
jeet gayi momma, jeet gayi momma
say hi to happiness n tata to trauma
jeet gayi momma, jeet gayi momma……..
6.  Khatar khun khatar khun khatar khun
Sun mere dil ki dhun
Tere pyaar ki oiling mil gayi isey
Toh khatar khun ka ho jaayega gun gun……….
7.  Tumhe samjhe toh mujhe bhi samjhana,
kyu hai mera jeevan itna khokla,
jaise koi basi aur sada hua khaman dhokla…
8.  Lagul lagul lagul lagul
laal laal lagul lagul jelly
jelly ke cabre dancer jaise shareer mein chhupi hai
anjaani ankahee paheli………….
9.  Jelly hai moma ka mann
narm mulayam meetha
pasand hai ise har koi
sangeeta rita mita aneeta………….
10.  Ghanan ghanan ghanan ghanan
badalo se aaye pehla soorya kiran
datton ke liye danta manjan
aur pet ke liye kaayam chooran…………..
11.  Hogi Saahil Bhai ki sagaai………..
Agley mahiney………..
Priya Bhabhi phuli na samaai
Yeah Yeah Yeah…………..
12.  Einstein sa dimaag..stupid si biwi…
nayi lambi gaadi..toota purana tv..
yeh mera sahil bhai…
monisha bhabhi hai hai…! wupee…….
13. Ek Common Man Ko Mili Hai Pari
Jese Chiku Ke saath Ho Strawberry
Aage Aage Mummy Aur Piche Piche Daddy
Jaise Ho Tom And Jerry………..
14. Finally ho rahi hai paani ki bottle khaali..
jab nahi hai yahan garden..toh kyun hoga maali…….
15. In the bathroom of Sarabhai..
hogi monisha bhabhi ki pitaai..
rakhti hain woh apna ghar woh ganda..
jaise dal makhani me paneer pasanda….wupe….
16.  Momma ka bday karein celebrate…
age hai 53 but u look 28..
Monisha bhabhi ne banaaya hai khaana..
jise hum sab karte hain hate…..wupeeee………….
17. Tring tring baji fone ki ghanti..
usne bola mera naam hai bunty..
fir woh bola namsate maya aunty..
maine bola..i am rosesh..sry bunty….wupee…………
18. Yeh hai teen pair waala kutta,Isko kabhi bhagaana nahi padta,
Susu karte waqt use pair uthaana nahi padta,Yeh hai teen pair waala kutta……….
19. Momaa ka purse jaise hospital ki pyaari si koi nurse
purse mein rakha tissue paper karta hai paseene ka ilaaj
aur lipstick ho jaise bhookhe honton ka anaaj
momaa ke purse ka hai makhmali sa sparsh,momaa ka purse,momaa ka purse……….
20. Sunehra sa rang hai tera
Ankhein jaise moti
Lash jaise dikhti hai jab
Khule ankh se soti
Machhli pup pup pup pup
Pup pup pup pup
Kissee de do choti choti………..
20. Meri moma Maaya Sarabhai,
Yaani Ishwar ki di hui badhaai,
Ishwar ki samjaai hui sachaai,
Ki duniya maaya se hi bani banaai.
Sab kuch hai maaya, yeh sofa yeh kaaya,
Ishwar ne table-cloth bhi hai maaya se banaaya……
Rista bhi maaya, raasta bhi maaya,
Lunch hi nahi, breakfast bhi maaya…………. !
Maaya sophistication ka pratik hai,
Thodi contemporary thodi antique hai,
Maaya to hai mamata ka chaaya,
Sara pyaar aata always via maaya………..
Maaya hai jeevan ki preyasi,
Maaya hai jaise dining table ki kursi,
Maaya hi dudh, maaya hi lassi,
Phir kaise kahu ki maaya chal basi………
Share your favorite Poem of Rosesh Sarabhai in comment section !