The great director Imtiaz Ali of Rockstar and Jab We Met fame is back and this time he has A R Rahman with him. Highway id directed by Imtiaz Ali and the music is given by no one else than A R Rahman, a deadly combo, right?
Imtiaz Ali had the vision of the movie Highway from last 15 years, but didn't get the chance. And now when Highway is all set, the combo is non beatable. The whole cast and crew is amazing.
Highway 2014 Movie Full Cast and Crew
Director: Imtiaz Ali
Produced By: Imtiaz Ali, Sajid Nadiadwala
Written By: Imtiaz Ali
Music By: A. R. Rahman
Lyricist: Irshad Kamil
Star Cast: Randeep Hooda
Alia Bhatt
Genre: Romance, Drama
Budget: INR 40 Crore
Release Date: 21 February 2014
Highway 2014 Synopsis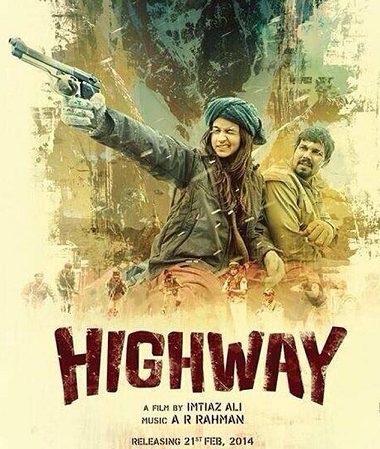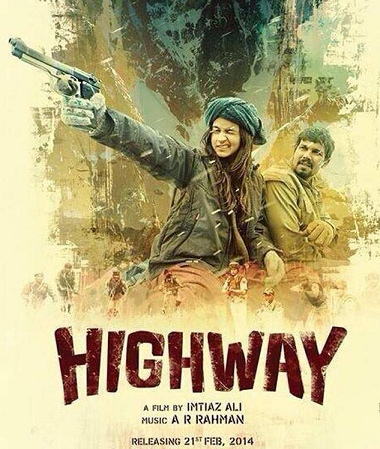 Highway movie is a story of the highway, don't get confused. Alia is a simple girl who gets abducted by Randeep Hooda. But the twist in the story is, Alia gets freedom only after getting abducted. She enjoys her life in bondage. Her friendship with Randeep grows on the highway which Alia doesn't want to end.
The trailer of the movie looks promising. Alia fits in the role like the script was written keeping her in the mind. Highway can be the biggest blockbuster of 2014. 
Highway 2014 Music Review
A. R Rahman is known for his Music. He is the legendary Musician and can never go wrong. Highway has an amazing and brilliant music. Songs, lyrics and the tunes will make you fal in love with each and every beat of the songs of Highway.
Movie has 7 songs that complete the whole album.Lyricist, Irshad Kamil, Lady ash and Krissy have made sure to make every song look different in its own way.In short, A R Rahman has hit the Bulls Eye yet once again by giving the great 7 songs for the movie Highway.
Highway 2014 Movie Tracklist
No.
Title
Artist(s)
Length
1.
"Patakha Guddi (Female Version)"
Nooran Sisters
4:45
2.
"Maahi Ve"
A. R. Rahman
4:00
3.
"Kahaan Hoon Main"
Jonita Gandhi
5:27
4.
"Wanna Mash Up?" (Lyrics : Lady Kash and Krissy)
Lady Kash and Krissy, Suvi Suresh
3:40
5.
"Sooha Saha"
Zeb, Alia Bhatt
4:59
6.
"Patakha Guddi (Male Version)"
A. R. Rahman
5:57
7.
"Implosive Silence"
Jonita Gandhi
5:41
8.
"Tu Kuja"
Sunidhi Chauhan
4:28
9.
"Heera"
Shweta Pandit
4:32
Highway 2014 Dialogues Lyrics
Coming Soon….. 
Highway 2014 Movie Trailer