Sacred Games is one of the most successful Indian web series by Netflix starring Nawazuddin Siddiqui, Saif Ali Khan, Radhika Apte, Pankaj Tripathi, Surveen Chawla, and many other famous Indian actors.
Sacred Games season 2 has been released and we watched it on the first day on 15 August 2019. Season 1 of the series is full of brilliant punch lines and one-liner from Nawazuddin Siddiqui, and Sacred Games 2 is also full of great quotes and dialogues. So We are sharing all Dialogues and Quotes from Sacred Games Season 2.
Sacred Games 2 Dialogues and Quotes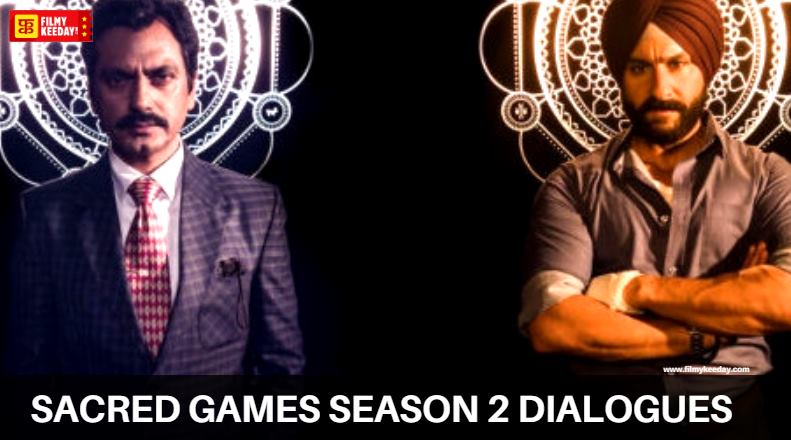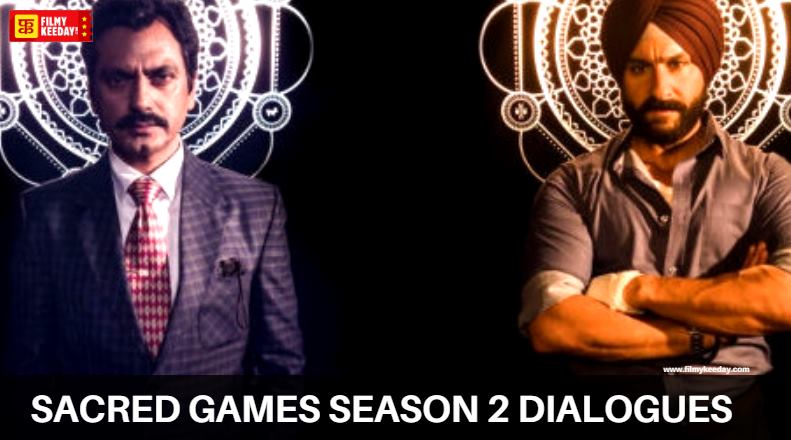 Nawazuddin Siddiqui Dialogues in Sacred Games 2
Apun Kidhar tha Malum nahi, Apun ko bas G*and Marni Thi..
Life haram ho gayi thi sardar ji, jaise ab aapki hone wali hai..
Malum pada ye khel, in sab chutiyo se, aap se, mujhse bada hai..
Dimag me badla lene ki aisi garmi thi ki apun thande paani me hi tairne laga..
Apun Bambai ke liye Khade L*nd ke maafik tadap rela tha, aur bambai, bambai apun ko bhul reli thi…
Main kisi ki Chakri nahi karta…
Pehle main aapko khush karega, fir daru pilayega, fir jab aap dimag se nahi L*nd se sochoge, tab bolega..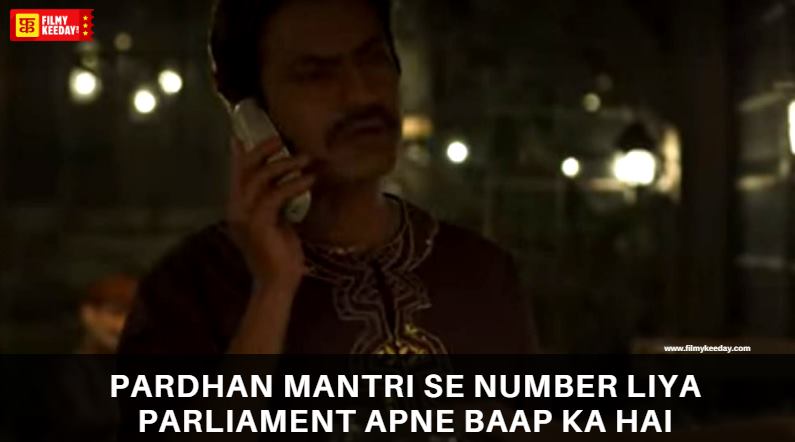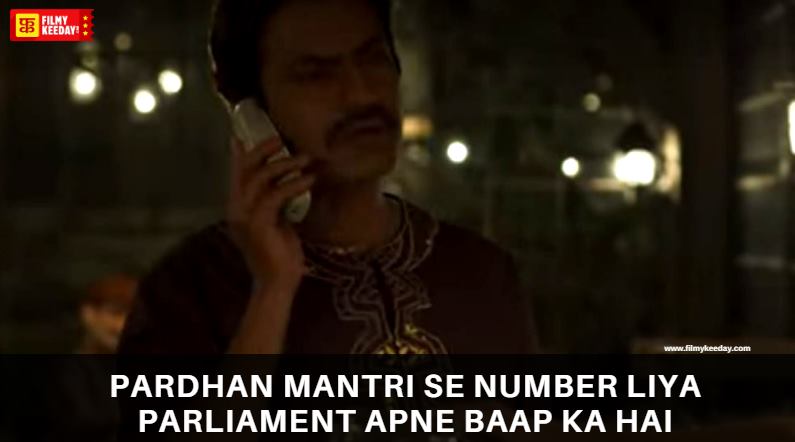 Pardhan mantri se number liya, parliament apne baap ka hai…
Tu Aisi chhatri banega, jiske niche kenya ka sara chhokra log baith ke apni apni dukaan chalayega..
Inki Bhasha me Bol, l*nd smajh nhi aa raha kisi ko kuch…
Machli se Gariyal, gariyal se sher, aur sher se bandar to hum ban gaye, lekin bandar se insaan hum tab bane, jab humko dharam mila..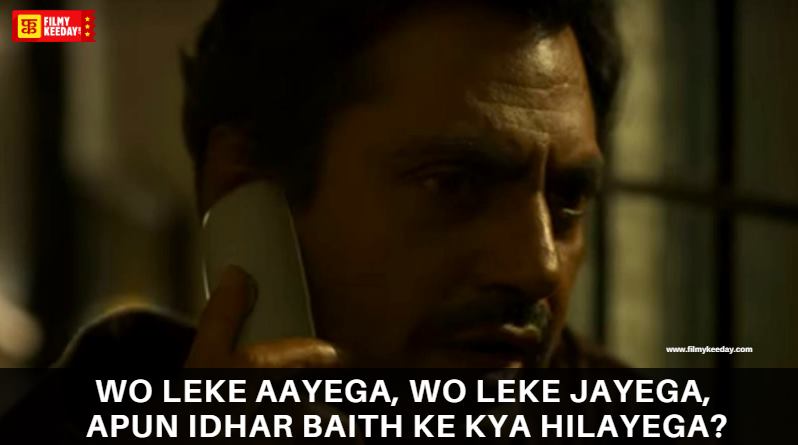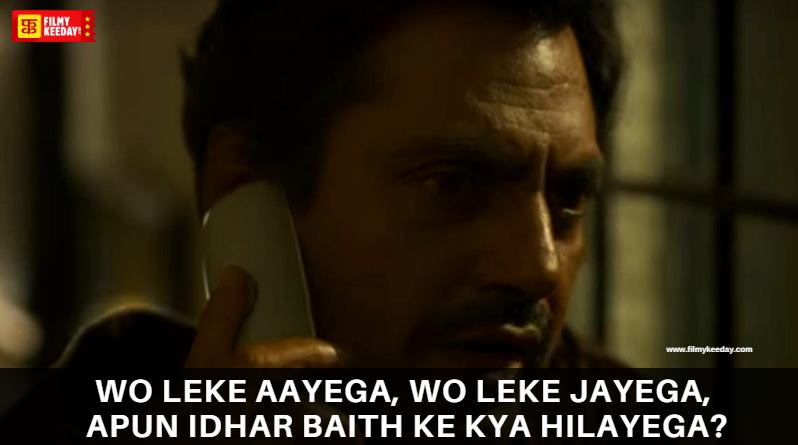 Wo leke aayega, wo leke jayega, apun idhar baith ke kya hilayega?
Asli Dharam insaan ko batata hai, ki aage kya hai, insaan se apun next kya banega, kidhar jayega, croro saal ka ye ch*tiya khel..
Aap dharam me nahi mante na sardar ji, to aage kya hoga aapko main batayega…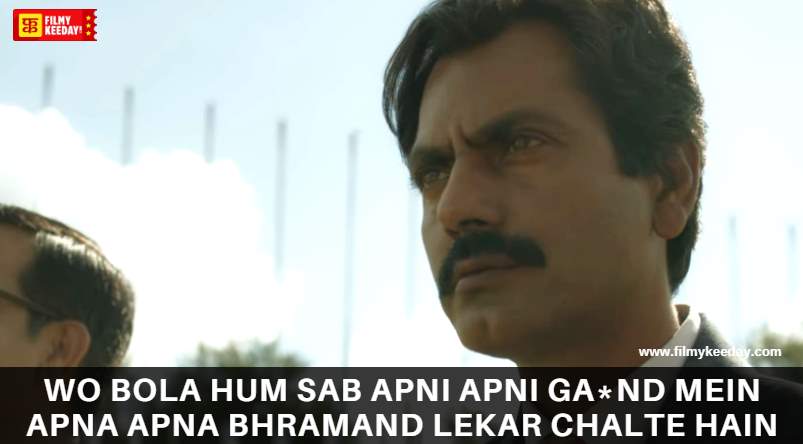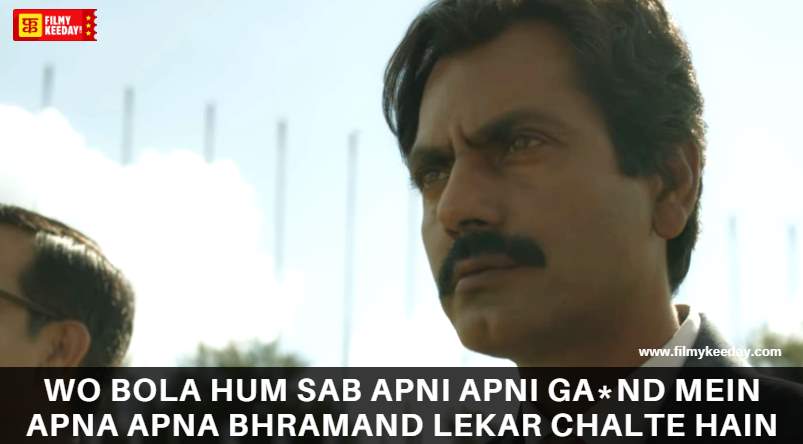 Wo bola hum sab apni apni G**nd pe apna apna bhramand leke chalte hain..
Apun ko bas isaa ka g*nd katne ka hai..
Maut ka gyan to aise de rahi hai, jaise PHD kar rakhi hai uske upar..
Maa Kasam kass ke milne ka hai tujhse..
Wo Bola insaan apne lalach aur hawas ke chalte apni hi G**nd maara, aur satyug se kalyug me aa gaya…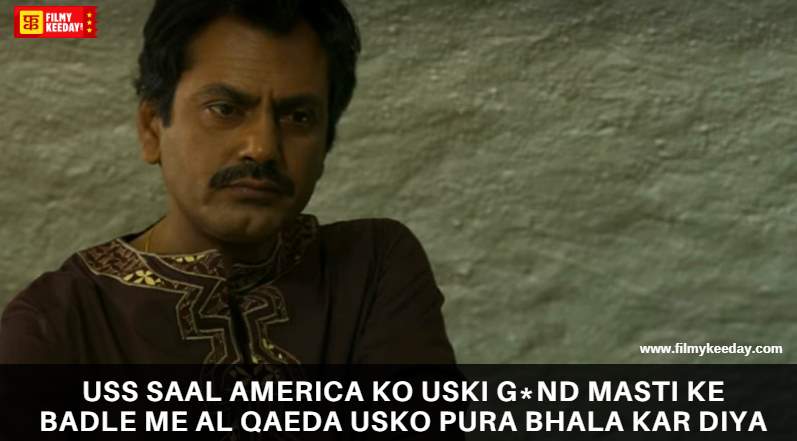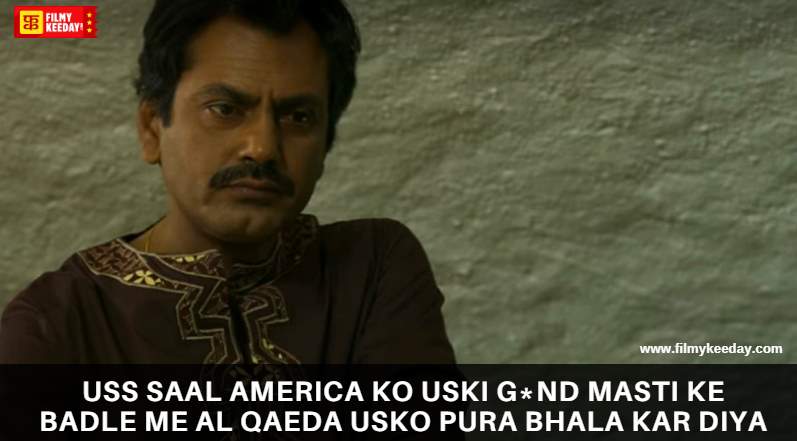 Uss saal america ko uski ga*nd masti ke badle me, al qaeda usko pula bhala kar diya..
Osama me daring tha, puri dunia ke samne america ka ek nahi do, do lu*d kaat ke le gaya..
Abhi tera mera ho gaya hai, abhi dekhne ka nahi h merko, warna bina paani ke visarjan kar dega..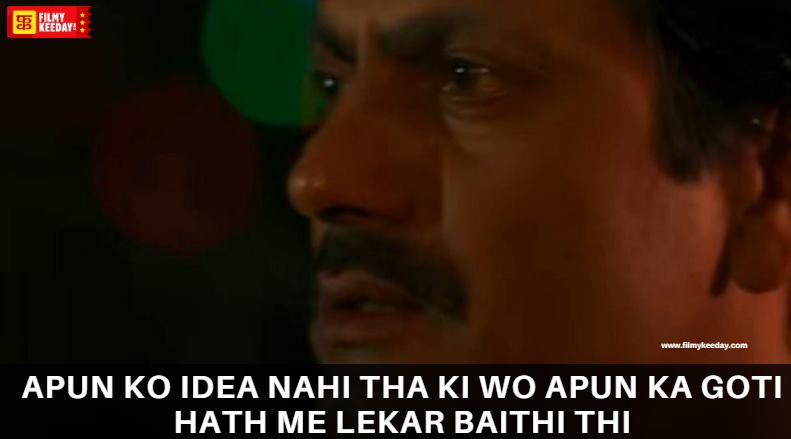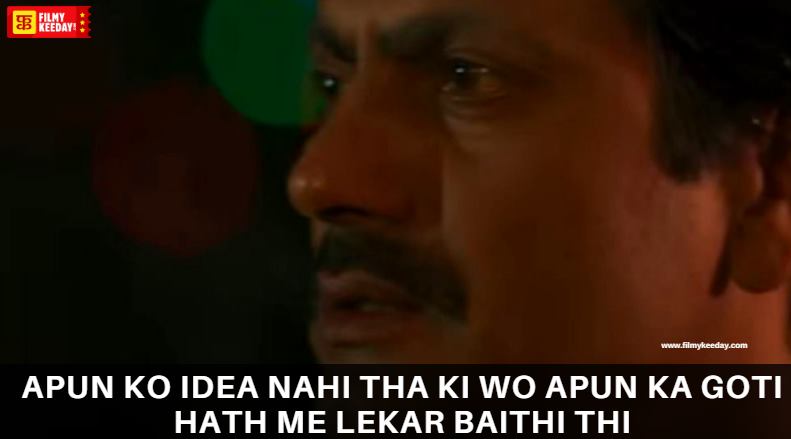 Apun ko idea nahi tha ki wo apun ka goti hath me lekar baithi thi…
Life me pehli baar itna paisa kamaya, lekin kidhar bhi naam nahi tha apna..
Jojo : Sanyas leliya?
Kitna Tapasya kiya apun tere liye, par tu to prakat hone se rahi, Kya karta..
Kitne saal baad namak chakha, muh me diwali horela tha sala..
Pankaj Tripathi Dialogues in Season 2 of Sacred Games
Balidaan Dena Hoga!
Bhagwan humse kahaniyon me baat karta hai, humari kahani mord kar, jod kar ek dusre ke jiwan me dakhil karta hai…
Aham Bhramasmi..
Darr ka tamas hai tumhare ander..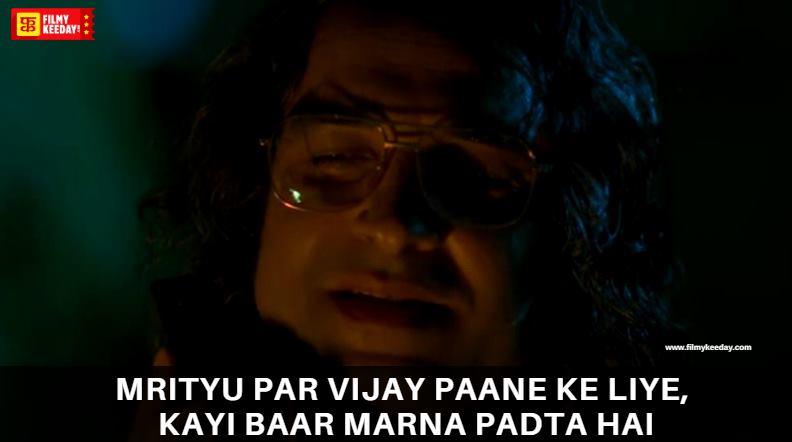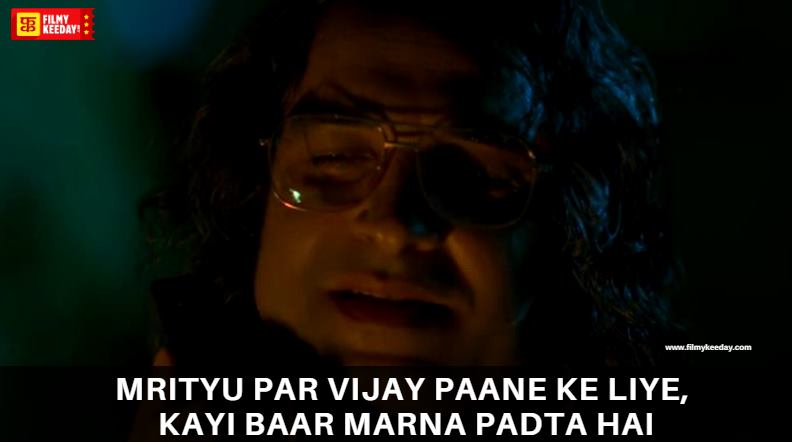 Mrityu par vijay paane ke liye, kayi baar marna padta hai..
Your orgasm is the biggest force inside you, if you control it, you win.
Your oldest wounds, bachpan ke ghav, will come back because nothing goes away, our oldest memories, our deepest joys, everything is inside us.
Time is Radioactive, it decays and it stays forever. it is a circle and this circle of time is divided into 4 eras.
Tumhare ander ek urja hai, urja ke sang sang atma sandeh bhi aata hai, us atmsandeh ka balidan dena hoga..
sex ko hum log bhukh mante hain, usme ek tadap hai, ek zarurat hai, jaise zarurat saans lene ki bhi hai, lekin wahan tadap aur hinsa nahi hai, hume sex ko saans ki tarah sehej banana hai, make love to the soul.
Purity is like cocaine, mehngi wali cocaine…
Tamas ke sipahi ghodon pe sawar hokar, humari taraf tezi se aa rahe hain..
Our Lack of humanity is bleeding us dead by a million cuts everyday…
Jab sab kuch niyantrit lagne lage tbhi naye arth ko khojne ki ichha hoti hai…
It is possible to conquer time, because time is radioactive…
Power and narcissism fucked each other and gave birth to the thing that we all love : Materialism..
Humare bojh se dharti fatt rahi hai, cancer has metabolized…
Ye 70 saal se lad rahe hain, aur ye sirf war of religion ya war of nation nahi hai, yeh war of civilization hai…
Sex is nothing but an exchange of energy, make it like an exercise and it will make you satvik…
We have to control our spiritual, emotional diet and we will find satyug again together…
Others
Makar sakranti ke din paida hui thi, Sabka katati hai.. – Bunty
Aur Picture banane ka ki nahi banane ka, ki idharich tera reel kaat ke end karu?
Main desh prem ke liye kar rahi hoon, tu Apni jaan ke liye kar..
Dushmani rakhni hai to rakho, Lekin Dhushman ki izzat to karo..
merko bol udhar aata hu teri gaand me chhatri kholne ko..
Your Turn!
Share, your favorite Sacred Games 2 Dialogues in the comment section, or suggest us some more quotes from Sacred Games 2 which we may have missed in this post.