Kochadaiyaan AKA Kochadaiiyaan Review 
A typical Rajinikanth movie made for Rajinikanth fans. Rajinikanth is enough to make any movie successful, However, Kochadaiyaan has got many more things that have made this movie special and Rajinikanth is like cherry on the top. Well, Rajinikanth is seen in a double role in the movie and the music is given by none other than, A R Rahman. The movie is not just a visual treat, but also an audio treat with Rahman's music, Rajinikanth's style and amazing animation and 3D effects. Although, the animation and 3D effects are great when compared to Indian movies, but it lacks a lot, if compared to international movies.
Kochadaiyaan Star Cast
Starring: Rajinikanth
R. Sarathkumar
Aadhi
DeepikaPadukone
Shobana
Jackie Shroff
Nassar
Rukmini Vijayakumar
Producer: Sunil Lulla
SunandaMuraliManohar
Prashita Chaudhary
Director: Soundarya R. Ashwin
Story By:K. S. Ravikumar
Music: A. R. Rahman
IMDb:
Release Date:23May 2014
What I felt after watching Kochadaiyaan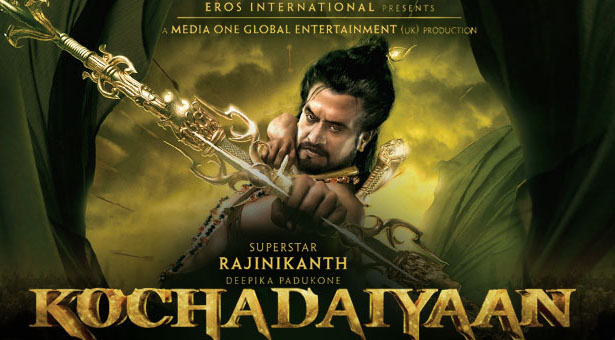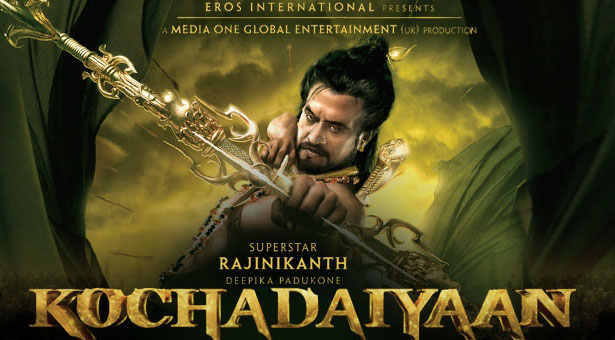 After watching Kochadaiyaan, I seriously felt that in terms of animation and 3D, Indian film industry has grown. No doubts, we have a long way to go to compete with Hollywood, but Kochadaiyaan has by far the best animation in Indian films. Rajinikanth is the superstar in every sense, dialogues, fights, action, expressions… he is just amazing. A. R. Rahman's music is soulful and a treat to ears. I would love to watch this movie once again.
The story of the movie revolves around two countries, Kottayapatanam and Kalingpuri. A young boy, Rana gets drowned in sea from Kottayapatanam and reaches Kalingpuri. He grows up in Kalingpuri and joins the army of the king. He found that many people of Kottayapatanam are held in the Kalingpuri Gold mine as labour without 3 time food. He requests the King to take them all in the army of his country, so that they will have a bigger army to fight against Kottyapatnam. But, eventually Rana, takes the new formed Army that was actually the people of Kottayapatanam back to Kottayapatanam and he too goes back there.
Later on, Rana Tries to kill the King of Kottayapatnam but gets arrested. Deepika, who is the daughter of Kottayapatnam King ,She loves Rana from childhood comes to the Prison to ask why he want to kill his father Rana tells her the story of his father Kochadaiyaan. Kochadaiyaan  is the brave man and the chief of the Kottayapatnam army. People of the Kottayatnam respect him more than the king. King of Kottayapatnam feels jealous of Kochadaiyaan . One day Kochadaiyaan was coming from the Persia with advance weapon and horse with his army in ships. Suddenly Kalingpuri army attacks on their ships kochacdiyan and his army fights with the kalingpuri soldiers and wins the fight. After dinner meal all get pains in their body because of the poison which was added by the Kalingpuri soldiers. Kochadaiyaan took the ships to the ports of Kalingpuri for medicine. Because that was the nearest palce from them. He makes a deal with the King of Kalingpuri that he will leave his all weapon and soldiers if they give them medicine.
When Kochadaiyaan returns to Kottyapatnam. King of Kottayapatnam asks his solider to kill kochadiyaan because he is a traitor.
So rana Takes revenge of his father death by killing the King of Kottayapantam.
Kochadaiyaan Verdict
Well, the kind of shouts screams and excitement I saw at a north Indian cinema hall, I can easily predict that movie is going to be very successful. Say it the charm of the Rajinikanth or the world class animation, audiences loved the movie and so did I.
What's Good- Rajinikanth,  Fight sequences, Action, Dialogues, The Animation,Dance of Rajnikanth.
What's Bad- You really want to know? Ok,First half of the movie was quite slow which made it a little boring. I missed the real Rajinikanth onscreen and Songs are the spoilers.
Should I watch Kochadaiyaan?
YES, Even if you are not a Rajinikanth fan, you should watch Kochadaiyaan. The movies like Kochadaiyaan are unique and if you like movies then you should not miss this one. And, need not to say, You must watch this film for Indian Film Industry. You can see the hard work of whole team of Kochadaiyaan before opening credits and end credits.
This movie is so special because this is the first movie made with motion capture technology completely in indoor studio.
Filmy Keeday Kochadaiyaan Rating
3 Stars