Finding Fanny is a satirical film directed by Homi Adajania. The film is being released in Hindi and English worldwide. However, Indians are luckier, as the film will be released on September 1 in India, but the rest of the world will have to wait for 11 days, for a worldwide release of Finding Fanny. Arjun Kapoor and Deepika Padukone will be seen in the leading roles, along with Naseeruddin Shah, Dimple Kapadia and Pankaj Kapoor. Ranveer Singh will be seen in a special appearance in the film.
Imran Khan and Sonam Kapoor were the first to be approached for the film, but they both turned down the offer and Homi Adajania, kept the film in back in the bag in 2009. However, during the film Cocktail, Homi Adajania narrated the script of Finding Fanny to Deepika Padukone, which she liked a lot.
Finding Fanny Full Cast and Crew 
Directed by
HomiAdajania
Produced by
Dinesh Vijan
Screenplay by
SaiwynQuadras
Story by
HomiAdajania
KersiKhambatta
Star Cast        
Naseeruddin Shah
Dimple Kapadia
Pankaj Kapur
DeepikaPadukone
Arjun Kapoor
Music by
Mathias Duplessy
Sachin – Jigar
Cinematography
Anil Mehta
Edited by
Sreekar Prasad (Hindi)
Nick Moore (English)
Release date  
The film will premiere in India on September 1, 2014 and is scheduled for release worldwide on September 12, 2014.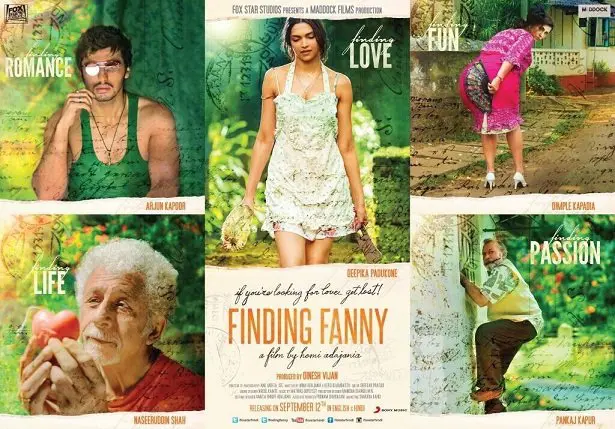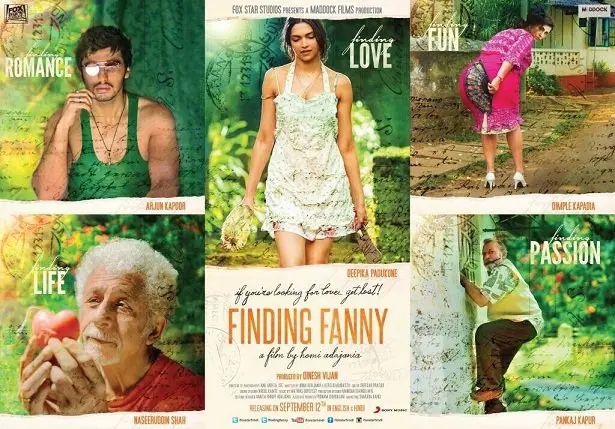 Finding Fanny Synopsis
Finding Fanny is a satirical film that revolves around 5 characters from a small village, Pocolim of Goa. The 5 distinct characters meet on a trip under random circumstances. Deepika plays the role of a young widow, Arjun Kapoor is a bitter mechanic, Pankaj Kapoor is a belligerent Artist, Dimple Kapadia is an obnoxious self appointed "Lady" of Pocolim and Naseeruddin Shah is an old postman, who is on the trip to find his love of life, he missed 46 years back.
The journey and the characters looks really colorful, but only the audiences after the release of the film, can tell if the film was really colorful or not.
Finding Fanny Trailer
Finding Fanny Music Review
Fanny Re and Shake your Bootiya are peppy songs of Finding Fanny which you will love. However, the problem with the music of Finding Fanny is, the songs are short and very less. But, at the same time, the story doesn't demand much of the songs and we must appreciate, Homi Adajania for making a different kind of film. The music can be a little disappointing for music lovers. I will give 3 stars to the music of Finding Fanny
The music can be a little disappointing for music lovers, as there are only 4 songs . I will give 3 stars to the music of Finding Fanny!
Finding Fanny Tracklist
Fanny Re
Mahi Ve
Ding Dong
Shake Your Bootiya
Dialogues of Finding Fanny
Not Available