Gunda is a cult Bollywood movie Directed by Kanti Shah, the movie has its own fan following and its Rating in IMDB is 8.1. we are sharing some dialogues of Gunda.
My suggestion must watch the first 15 minutes and rest is your choice..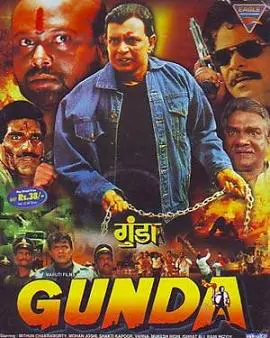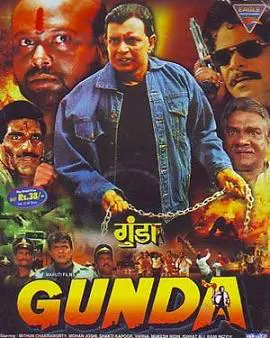 Introduction of Bulla
Mera naam hai Bulla,
Rakhta hoon main Khulla
Introduction of Chutiya
Mera naam hai Chutiya,
Achon-achon ki main khadi karta hoon khatiya
Introduction of Potey
Mera naam hai Pote
Jo apne baap ke bhi nahin hotay.
Introduction of Ibu Hatela
Mera naam hai Ibu Hatela,
Maa meri chudail ke beti,
Baap mera shaitan ka chela,
Khayega kela?
More Dialogues 
Kaam ki baat bata, jis kaam ke liye tu Billi ka doodh peekar Dilli se aaya hai….
Zalzala jaag chuka hai,
sab ko pata chalega ki gang-war start hone waala hai,
Laashein is tarah se tapkegi
jaise nanhe munne bacche ke nunni se pishab tapakti hai
tap tap….
Taine gundagardi mein bahut naam kamaya,
Kabhi dushmanon ko faada, kabhi kaata,
Dikhne mein to tu naata,
Par tohar naam hai Lambu-Aata…..
Bulla!  Bulla ka naam leke tu ne mera khopdi hila diya hai
Khada Kar diya hai mera………gusse se ek ek baal khada kar diya hai
Saale ko maine doodh pila-pila kar paala
Lekin aaj woh meri chaati chabana chahta hai, meri chaati…
Kya!! Pehle toh tum donon ek hee chokri ke saath sote the,
Tu idhar se, woh udhar se………chumma lete the
Lambu-Aata ne hamare aadmi ko maarke rumaal faada hai,
Apun uska patloon faadega, who bhi peeche se……angootha laga ke.
Pehle us Lambu-Aata ko maut ke tave par pakaana hoga
Arey Bulla bhai, maaro isko (Lambu-Aata's brother) aur iska garam garam khoon apne chotte bhai Chutiya ko pila do, taaki uske andar garmee aa jaye.
Aur shayaad uski kamar jhatke khaana chodke , jhatke maarne lage !
Dekh Kundan, marne ka nahin, Bagair mere pooche marne ka nahin,
Agar tu mar gaya to main maje kiske saath karega?
Yaad hai, yaad hai tereko, jab hum donon college mein thay?
Tu mere se zyaada chikna tha re, tu mere se zyaada chikna tha.
Tu chokri pata ke laata tha aur main maje karta tha.
Marna nahin…Main Bulla ko jeene nahin doonga aur tereko marne nahin doonga,
Tu marna nahin mere bhai, tu marna nahin
Arey nahin…..Dum ko pakad ke rakh, mere bhai, dum ko pakad ke rakh,
Yaad hai mere bhai kundan,
Woh dhande-waali tereko yaad hai?
Jo tereko bolti thi…mere pyaare chikne kundan.
Lagaoongi tereko chandan,
Pairon ke jhoole mein jhulaake pahunchaoongi is jahaaj se London.
Yaad hai? …Aey Kundan…..Arey mara gaya re kundan !!!
Bulllaaaa…Aey Bullaaaa,
Teri bahen ka karoonga main Khullam Khullaa !
Arey Maa kasam,
Main to samjha tha ki Bulla ki behen koi bhangar ki dukaan hogee,
Saara saaman toot-phoot chuka hoga
Arey isliye to haathgaadi laya tha….
Lekin haai haai…..face Sonali, taangein Raveena aur aankhen Karishma,
Kal Bulla Allah ko pyara ho jaayega.
Mera naam hai Lambu-Aata, sale ko doonga maut ka chaata.
Chattri hotee hain kholne ke liye,
chaadar hotee hai odhne ke liye,
Aur chokree hotee hai chedne ke liye
Munni ! Munni ! Munni meri behen Munni, Munni
Munni meri behen Munni, Munni
To tu mar gayee?
Lambu ne tujhe lamba kar diya?
Maachis ki teeli ko khamba kar diya?
Arey mere dil mein kya kya armaan thay tere liye.
Maine to tere liye Teen-sau chokre dekhe the…who bhi ekdma chikne,
Jo tujhe bhaata, wohi tera pati banta
Magar tu to katela gurda, yaane murda ho gaye…
Jal gaya hai badan teri behen ka,
Kar bandobast ab Lambu-Aata ke kafan ka.
Roti hoti hai khaane ke liye,
Aur Boti hoti hai chabaane ke liye,
Badshaah ki behen ho ya fakir ki beti,
Ek na ek din aati hai marad ke neeche bajaane ke liye seeti
Yeh mat bhool Lambu ki, chooha zakhmi haathi ke dum par baithkar, panja to chala sakta hai,
Lekin jab haathi ulta-sas leta hai na, to chooha 'under' ghus jaata hai.
Hum tujhe kisi dhande-waali ki us jagah ki gori chamdi bana denge,
Jo phatke kha-khake kaali ho jaati hai,
Har moonh pe maa-behen ki gaali ho jaati hai.
Tu ne mujhe nakhoon ka mail kaha tha na?
Ab hum tujhe 'Saande' ke tel laga ke maarenge
Bulla mereko mat maar, mat maar.
Mereko apna Bhadwa bane le,
Mai tereko ladkiyaan supply karoonga, tu maje lete reh
Tereko AIDS se bachaane ke liye nirodh ban jaaonga
Towel banker teri kamar se lapat jaaonga.
Mereko mat mar aur agar maarna hee hai
To mereko cheel-chaal ke chakka bana de
Mai saadi lapetkar dance karoonga "gore gore gaal gaal gore gore, yun na mujhe daal daal dore dore dore dore..
Bulla, tu ne khullam khulla Lambu-Aata ko maut ke tave mein senk diya,
Uski laash ko Worli ke gutter mein phenk diya
Hum yahaan ke dada hai Shankar,
Zyaada badbad karke apni zindagi mein maut ki gadbad mat kar
Jis tarah train ke aane par station kaanpne lagta hai
Usi tarah meri khauff ka bukhaar tum sab ko kaanpne par majboor kar dega
Aaj maine tum logon ki maut ki date fix kar di hai. Yaad rakhna aaj ek tareekh hai. Do, Char, Che, Aath, Dus…Bus!!! Intezaar karna !
Dada baap ke baap ko kehte hain,
Aur main hoon tum sab ka Baap.
Inspector kale,
Ab lagne waale,
Tere moonh par maut ke Tale.
Kitna bada risk hai,
Teri maut ki date fix hai
Arey Chutiya, tu bhi ludak gaya!
Arey maine tere liye kya nahin kiya.
Tujhe mard banaane ke liye main London se goli mangvaayi
Tujhe ladkiyan supply karke main bhadvagiri ki ta ke tu mard bane Chutiya
Aur tu mard bana, tu mard bana Chutiya
Aur mai kitna khush hua, bol na Chutiya khush tha na mai?
Arey, abhi to tere tube mein light hee aaya tha
Aur Shankar ne tera fuse uda diya?
Tera naam hai Bulla,
Maut ke baad bhi tera moonh reh jaayega khulla…