CINÉPHILE 2015
Cinéphile aims at giving budding filmmakers a platform to showcase their inspiring work with this great art. The participants get a chance to spectacle their worthy pieces of art to the eminent personalities of the Indian Film Industry. Moreover, it is an opportunity for them to get their films critically analyzed by the experts and receive the benefit of experts' experience in film making and discuss their ideas, thinking and beliefs with them as well.
Jury Members CINÉPHILE 2015
Mike c Berry, CEO at Golden Tulip Films
Mike C Berry is a Jury Member at Film Finance Awards, Poland, Jury EMMY International Awards, USA and an award-winning programme-maker who has overseen in excess of 1900 hours of TV over the last 26 years. Whether one-off specials or presenter-led series, all Mike's shows have attracted critical acclaim and peak ratings in their slots – he "gets" channel needs and can deliver on a range of brands. During his career he has produced, directed and executive-produced for ITV, BBC, Discovery, Animal Planet, National Geographic, Sky One, Star, Sony, Five and PBS, across history, science, wildlife, factual entertainment, arts and light entertainment.
Hemant Gaba
Hemant Gaba started his filmmaking career in 2008 and spent 2.5 years on making his debut feature film called SHUTTLECOCK BOYS that saw a very limited theatrical release in India via PVR Director's Rare in August 2012. The film had also traveled to various International Film Festivals in Chicago, Seattle, Florida, New Jersey, Sydney, New York and Nepal. Shuttlecock Boys later got listed as one of the top 10 Indie Films of 2012 in India by IANS and by RAINDANCE under The Best Indian Indie Cinema  He also produced a feature documentary called STILL STANDING which won Best Debut Film at Mumbai Intl Film Festival in 2012. In 2013, he became a part of a collaborative experimental feature film called "X-Past Is Present" which has been directed by 11 directors including him. X was the Opening Film of South Asian International Film Festival in New York in Nov 2014. And it was also screened in the World Cinema Section of International Film Festival of Kerala 2014.
Reena Mohan
Reena Mohan is an award winning independent documentary filmmaker and editor who has worked out of Dubai, India, Kathmandu and London. She graduated from the Film & Television Institute of India in 1982 with a specialisation in editing. Since then she has edited several features, television serials and over 50 documentaries many of which have been screened at international film festivals and have won awards. She produced and directed her first award winning documentary KAMLABAI in 1991 and has, till now, scripted and directed more than 10 documentaries. Most of these have traveled to various international film festivals. Her films reveal a passionate engagement with people's lives and issues of film making. She has three National Awards and one international award to her credit.
Amrita Das Gupta
Filmmaker, writer, academician and creator of TV series Khullam Khulla (2001) broadcasted on Doordarshan
Short Listed Films for Screening
Cinéphile 2015 is happy to announce top films from each category. The final results will be declared on November 7.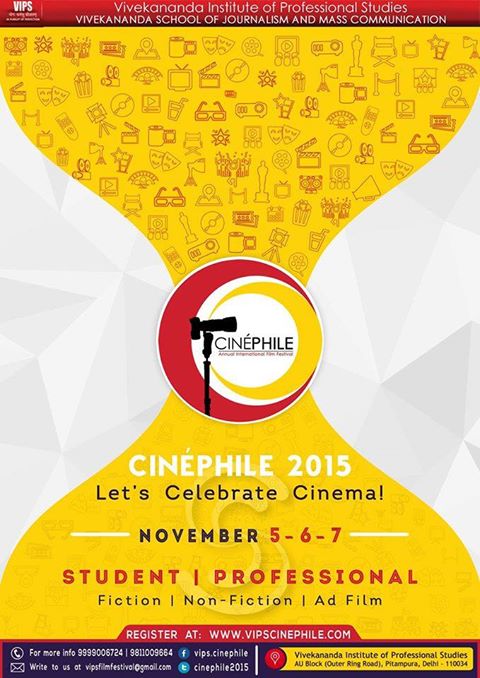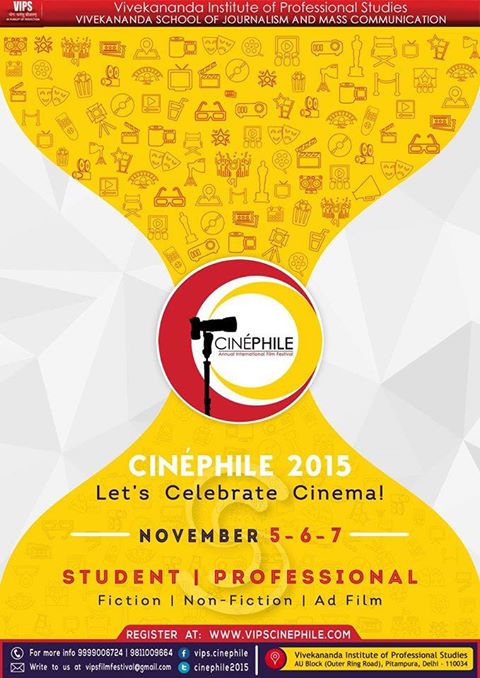 Congratulations to the short listed films, great work! Also, a big thank you to all the entries for your support. We look forward to see you on the 5th, 6th, and 7th at Vivekananda Institute of Professional Studies, for the screening of your films.
Student Fiction Film:
Dreams, Weavers & Viewers by Nayani Sandya Chandrasinghe
Agni by Tirupati Vikram Singh Chauhan
Once upon a time with cowboys by Eranda Mahagamage
Broken Image by Gokul Krishnan
Be with me by Randi Pavithra Kaluarachchi
Frankstein's Light by Mohammad Saad Nawab
The Fear Inside by Rick Hamilton
Hereditary Collapse by Emre Kilinc
Vacanza by Nicola Pascucci
Blueberry Cheesecake by Pranjal Vaid
Student Non-Fiction Film:
Nirvana by Deepak Jain
Night Shift by Aaditya Gangwar
Dust by Nayani Sandya Chandrasinghe
Told Untold by Antarik Anwesan
Marriage Bazzar by Vijay Kumar
Professional Fiction Film:
The Bet by Viplab Majumder
On the way to recognition by Khelnabati
Araneae Dei by Maxine fone
The town where nobody lives by Al Topich
A matter of principle by Roger Barker
Professional Non-fiction Film:
Old Delhi Motorcycles by Inderjit Singh and Tanveen Singh
A Bohemian Musician by Rochak Sahu
The story of the Friends by Mahmoud yossry