Nelson Rolihlahla Mandela, South African President and Anti-Apartheid Revolutionary died at the age of 95 after a prolonged lung infection. Mandela was at his Johannesburg home on Thursday when he left the world to Rest in Peace. Mandela was ailing from nearly a year.
Mandela was a symbol of hope and freedom for millions of people around the world. Bollywood too has taken inspiration from this great leader. Amitabh mourns the death of this great leader while recalling his encounter with Mandela. Amitabh has met this great personality twice, as conveyed through a tweet by Mr. Bachchan, 'Nelson Mandela – a giant of a man; of will, belief and perseverance, passes away. But leaves behind a legacy of fight for right. I had the greatest honour to meet and spend time with him on two occasions. His humility his greatest asset, among countless others'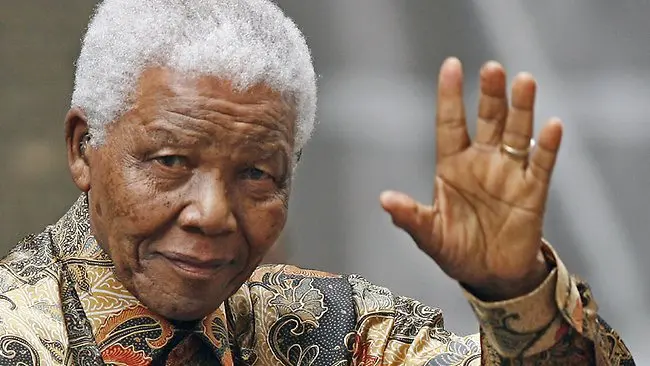 Many Bollywood celebs have been privileged of meeting Nelson Mandela and can't hold their emotions back. One more such celeb is Mahesh Bhatt, "The perfume of my meeting with Mandela lingers. Remembering what he told me: 'It would be preposterous for me to give any advice to India. Just live the words of Gandhi" tweet Bhatt.
Director Kabir Khan also had the privilege to meet Mr. Mandela during his in South Africa for filming a documentary.
SRK Tweet
1. RIP Nelson Mandela…Some people should not

die…for the sake of the lack of goodness left in this world…

— SHAH RUKH KHAN

(@iamsrk) December 6,

2013
Mallika Sherawat
#RIPNelsonMandela, the world lost a great leader …

— Mallika Sherawat (@MallikaLA) December 6, 2013
Kabir Bedi
Death immortalises Nelson Mandela's life:

epic journey from violence to non-violence, prisoner to President & Statesman. #RIPNelsonMandela

— KABIR BEDI (@iKabirBedi)

2013
Amitabh Bachchan
T 1315 – Nelson Mandela – a giant of a man ; of will, belief and perseverance, passes away. But leaves behind a legacy of fight for right !!

— Amitabh Bachchan (@SrBachchan) December 6, 2013
Shekhar Kapoor
Thank u all for your Birthday wishes. Yet I

will always now remember this day for the passing of the greatest man that I have met #Mandela

— Shekhar

Kapur (@shekharkapur) December 5,

2013
Rahul Bose
In an age where just about everybody is hailed as an ' icon', we've just lost one. And this is how awful it feels.#Mandela

— Rahul Bose (@RahulBose1) December 6, 2013
Riteish Deshmukh
Your foot print will inspire many of us to

walk – #RIPNelsonMandela

— Riteish Deshmukh

(@Riteishd) December 6,

2013
Anil Kapoor
"It's always seems impossible until it's done". #RIPNelsonMandela blessed to have met him. pic.twitter.com/qXT8TyKywu

— Anil Kapoor (@AnilKapoor) December 6, 2013
Akshay Kumar
"A good head and a good heart are always

a formidable combination." Couldn't be more true… #RIPNelsonMandela

— Akshay Kumar

(@akshaykumar) December 6,

2013