Krrish 3 is the second sequel of Koi…… Mil Gaya (2001), first sequel was Krrish (2006). Bollywood movie with an Alien story and our own Superhero Krrish, without any underwear above his pants, but a broken mask on his face. The audience loved the first part, Koi Mil Gaya and gave a great response to second part Krrish as well. Now after 2 great movies, Rakesh Roshan has turned every stone in his path to make Krrish 3 the best movie in every sense. Krrish 3 will release during Diwali on 4th November 2013 with its 3 D format.
Let's have a look on, The making of Krrish 3
Also Read : Dhoom 3 All you Want to Know
Krrish 3 Casting:
Casting the right actors is very important for any movie. Rakesh Roshan very carefully chose the characters he want to use again in the sequel and which new characters to add. Hrithik Roshan is playing the protagonist again, but this time Hrithik has been on a special diet and workout regime for Krrish 3.
Vivek Oberoi is chosen as the antagonist of the movie, Rakesh Roshan has taken special care that Vivek's role in the movie should be competitive to Hrithik's and it should not feel as if Vivek's character is less in any way.
Chitrangada Singh was chosen for the role of Mutant, but was replaced by Jacqueline Fernandez, and the role was finally given to Kangana Ranaut.
Krrish 3 Music:
Music of Krrish 3 is by Rajesh Roshan, with background music by Salim Sulaiman. T Series spent 60 Million Rupees to acquire music rights of Krrish 3.
Krrish 3 Synopsis:
After defeating the villainous Dr. Siddhant Arya, and bringing his father Rohit back from the dead, Krrish continued fighting against evil and saving innocent lives.
Now Krishna is living a happily married life with Priya, while Rohit is using his scientific brilliance to benefit society. And Krrish is everyone's favorite superhero savior.
Unknown to them, a dark force is growing in another part of the world. Kaal, an evil genius, is selfishly misusing his powers to spread fear, death and destruction. And he is being assisted by an army of very dangerous beings, which he has created himself.
Not long after Kaal's plans are put into action, both Rohit and Krrish find themselves faced with a crisis of epic proportions, which only they can resolve, together. But when they finally cross paths with Kaal and his army, neither of them is prepared for what lies ahead.
Kaal not only brings the world to the brink of disaster, he also puts the strength and love of Krishna and his family to the test. And Krrish has to somehow find the power within to face an unbeatable foe.
The greatest battle between good and evil begins….
Krrish 3 Facts:
Krrish 3 is power packed with more Aliens.
Hrithik will be seen doing Super-heroic stunts.
Hrithik and Priyanka will be shown as married couple.
Krrish 3 Fan page on Facebook is the first to get officially verified.
Multiplex Owners made an exception for Krrish 3 by adding trailer of the movie free of cost, and free display promotions too.
Krrish 3 breaks digital records,  Krrish 3 received more than 2 lakh tweets.
Krrish 3 Budget:
The estimated budget of the movie is 310 million
Krrish 3 Poster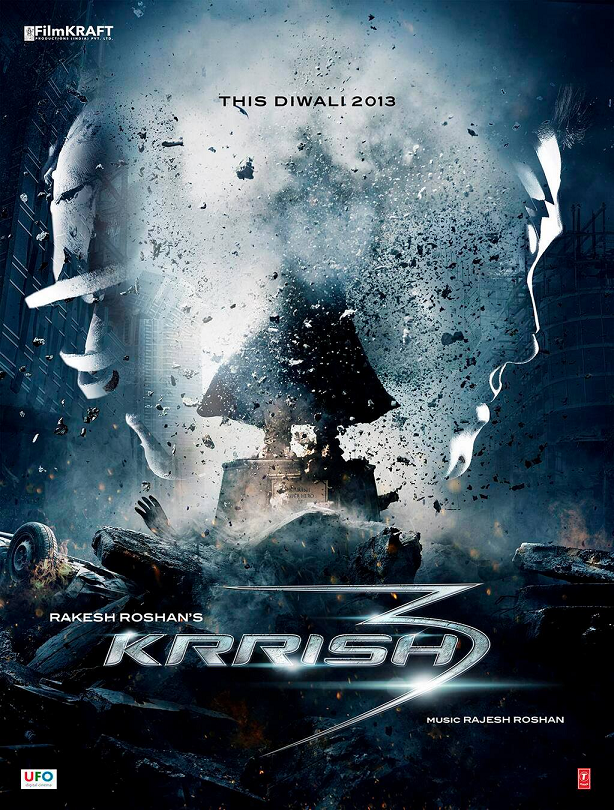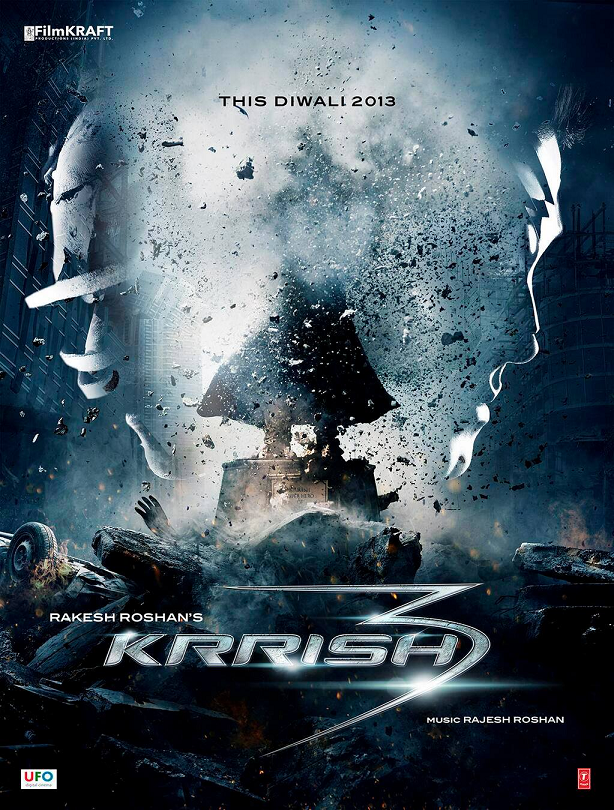 Krrish 3 Teaser
Krrish 3 Trailer