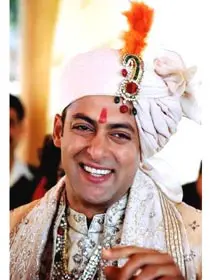 Rumour of Salman getting married to Romanian actress Iulia Vantur is going viral these days. Every newspaper and magazine is posting pictures of Iulia Vantur with Salman Khan which in turns is heating up the gossip market. Never the less, Iulia has got quiet famous in INDIA these days. It might open doors of Bollywood for her.
Denying this BIG rumour, Salman's father veteran screenplay writer Salim Khan said, "Kuch nahin, there is nothing to it! Absolutely nothing!".  Salim Khan's reply to this rumour might prove a fullstop, But Salman's big fan list won't let it go easily. Afterall Salman Khan fan's favorite question these days is- When is Salman Khan getting married?
In the past, Salman's marriage rumours were taking rounds when he was dating actresses Sangeeta Bijlani, Somy Ali, Aishwarya Rai and Katrina Kaif but none of them came true. To get linked with Co-actresses and close female friends has became a trend with every single Actor of our Industry.
So Girls you can chill and relax, Salman Khan is not breaking his female fan's heart so soon.